Joan asks about our recommendation of IncrediMail
TC and EB You Are The Best! Cloudeight is a Godsend! I have sent you a few queries in the past, and you have responded quickly and succinctly. I thank you for those times. When I made to switch from Windows XP to Windows Vista…then Windows 7, I finally had to let go of that EXCELLENT….WONDERFUL Email program OUTLOOK EXPRESS. At that time, you had found that Incredimail had 'cleaned up its act' somewhat, and not only endorsed their Email program, but also designed stationery compatible with their program. I am asking you now, whether you still feel that same comfort with them as you did back then…OR, are you beginning to become disenchanted with them? I ask this because I am getting sick and tired of their interference with my Email program usage. More, and more interruptive advertising is becoming not only disruptive….but constant updates or upgrades are causing me problems with my PC's performance and settings.
I remember you were at one point working on the development of an Email program like OE, but found that it was a very expensive project, and weren't sure whether you could actually deliver. Are you still in the process of this….or have you put it aside because of economic conditions still being bogged down and expansion at this point is difficult for any business….let alone a small (GREAT) one like Cloudeight? Oh, how I wish I were a wealthy person….instead of just an ordinary old age pensioner with pennies becoming harder and harder to pinch in half…..I would love to say,"GO FOR IT! I WILL SPONSOR YOU!" But I can't say that. What I wonder, though, is this: Might you be able to launch a fund drive that we faithful, appreciative members of Info Ave Newsletter could donate towards the realization of your dream to create an Email program that would allow us to use stationery and enjoy our Email once again as we used to with OE??? I would also like to know if there is another Email program that!
Our answer
Hi Joan. Thanks for all the nice comments! You'd have to be a very wealthy person to fund the development of such a complex email program such as Outlook Express. When we looked into it, to hire the staff we'd need to develop a program like Outlook Express would cost well over $300,000. That's almost as much as EB makes! No! No! No! I'm kidding. Really I am kidding. There hasn't been much in the way of extra funds these past few years – there's just no way we'd ever be able to raise that kind of money. Even if we could, security would constantly need to updated and that would cost money. An email program like Outlook Express would become a money pit for us – and we'd surely be taken down with a project that expensive and that complex. So we put it aside. If one of us ever wins the Mega Millions, we'll have an email program for you. Otherwise… sorry!
As for our recommendation of IncrediMail, we've not changed our opinion. However, we never recommended the free version of IncrediMail because, as you so vividly point out, it's adware. And anytime you install adware you have to put up with the ads – and some adware is tantamount to spyware. We're not saying that free version of IncrediMail is spyware but it is loaded with ads. Actually we only recommend the premium version of IncrediMail – which is, of course, not free. You either pay for IncrediMail with aggravation caused by the ads or you pay for it with money – but only once.
Our Vista/Windows Mail stationery works in Thunderbird, an email program by the folks that make Firefox. Thunderbird is free and any of our stationery for Windows Mail will work in Thunderbird. Thunderbird is a program you might want to look into if you're not willing to buy IncrediMail Premium. If you're interested you can learn more about Thunderbird here. If you'd like instructions as to how to use our stationery with Thunderbird, please see this page.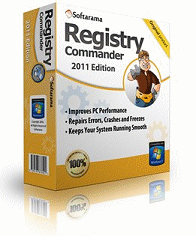 Registry Commander
Cloudeight subscribers save $20 Now on the ultimate registry cleaner/optimizer
Scan, Diagnose & Repair Your PC

Prevent Future crashes & freezes

Make Your PC faster, better, and longer

Fail-safe backup system ensures you can easily undo any change made by Registry Commander

Cloudeight tested, approved and endorsed

We are now using Registry Commander on all of our PCs
Cloudeight subscribers save $20 instantly
Registry Commander is an easy-to-handle optimization desktop application to speed up and improve the stability of your Windows 7, Windows Vista, or Windows XP computer system. Constant computer use, installing and uninstalling applications, and surfing the web causes corrupt registry entries that can drastically slow down your PC or laptop. Registry Commander safely cleans, repairs and optimizes the registry while backing up all changes for future recovery.
Features: Registry Commander is built on award-winning technology. Registry Commander has been downloaded over 3.7 million times. Scan and repair system errors in just one click. Optimizes your system registry for better performance. Cleans up your system to prevent crashes and freezes. Full technical support for registered users.
Save $20 on Registry Commander instantly!  Visit this page for more information.