A Tutorial: Creating a Windows 10 DVD for Upgrade
It's easier than you think!
Windows 10 is available for free to anyone using Windows 7 or Windows 8. If you have a slower internet connection, or have tried to do a direct install of Windows 10 only to have an error, your best option is to create a Windows 10 DVD and setup Windows 10 from the DVD.
Note: If you are on a dialup or slower internet connection, you can have someone else create the DVD for you – just be sure you have them make it 64 bit or 32 bit, depending on your machine capability. Always use 64 bit when possible. If you are creating your own DVD, Windows will show the correct one by default.
Many are concerned when they see they have to create an ISO file, as they feel it may be over their heads as far as burning an ISO. It is really much easier then you think! Just go to the following page:https://www.microsoft.com/en-us/software-download/windows10 and scroll down to the bottom where it says "Download tool now" and follow these steps:
Step 1: Click Download Tool. (see Image "A" below).
Step 2: Once downloaded, a new window opens. Choose "Create Installation Media for another PC" and click Next (see Image "B" below).
Step 3: When the next window opens, choose ISO file. (see Image "C" below).
Step 4: It will take some time to download, depending on your internet speed. (see Image "D" below).
Step 5: When it is done downloading, Click "Open DVD Burner" (see Image "E" below).
Step 6: Your DVD burning software will open; all you have to do now is click Burn. (See Image "F" below).
Note: We suggest you click "Verify" too, as it will ensure this is an accurate download of Windows 10. (see image F below)
Now you have a Windows 10 DVD; be sure to label it. Wasn't that easy? No knowledge needed of iso files, or burning. Windows guides you through this nicely. Be sure you have a blank DVD (a CD is not large enough). Also, if your machine will boot from a USB, you can choose the USB option instead, which requires a USB of at least 3 GB in size. All info on the USB will be deleted so be sure it is not a USB with saved info. Most computers are set to boot from a DVD so that would the best option if you are not sure.
Below is a step-by-step picture tutorial for you:
Step 1:

Step 2: IMAGE B
Step 3: IMAGE C
Step 4: IMAGE D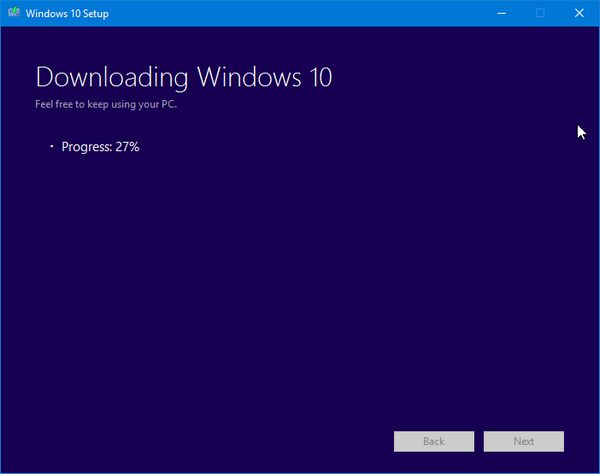 Step 5: IMAGE E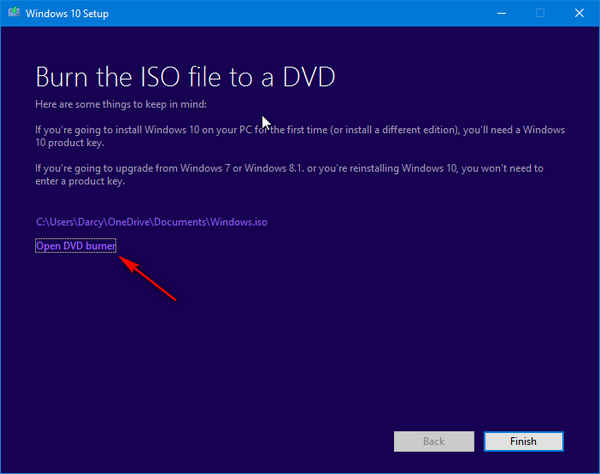 Step 6: IMAGE F