An Easy Way to Bypass Lock and Log in Screens in Windows 10
Windows 10 offers several ways of protecting you data. You can use a password or PIN. Or you can use a picture password, or biometrics if your computer is so equipped (many are not).
Caution: We don't recommend that you bypass your password or PIN login unless you are the only user of your computer and your computer never leaves your house.
We featured a similar tip a while back, however we are often asked how to disable the lock and login screen in Windows 10. There are other ways to do this by editing the registry,  however nothing we've found is easier for users to do than this.
Here's a super easy way to bypass lock and login screen in Windows 10
You can disable the lock screen and sign in screen so when you start or reboot your computer you'll go straight to your desktop or start screen, saving you the hassle of signing in and thus saving you a few seconds. You can use Autologon tool to skip the lock screen and the sign-in screen whether you use a Microsoft account to sign in to Windows 10 or you use a local account to sign into Windows 10.
So, if you're looking for an easy way to make Windows 10 automatically skip the lock and login screen and boot directly to desktop, the first thing you'll need to do is download a tiny utility from Microsoft TechNet called "Autologon". You can download it from here.
Step 1: The Autologon tool comes as a zip file, so you'll need to unzip it first.
Step 2: Click on Autologon.exe to run the Autologon tool. If you see a UAC prompt, click Yes. Then accept the Autologin license agreement.
Step 3: The Autologon tool automatically completes the username and domain field by gathering this information from the registry. So all you need to do is type your Windows password.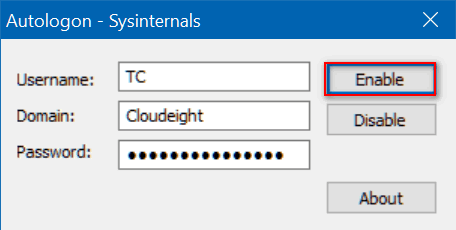 Step 4: Once you've typed your Windows password (make sure it's correct!), click "Enable" and you won't see have to see a lock screen or sign in screen again.
That's all there is to it!
If you hold down the shift key before the system performs an autologon, the autologon will be disabled for that logon.
If you ever decide you want go back to using the lock screen and sign in to Windows again, you can run the Autologin tool again and click "Disable".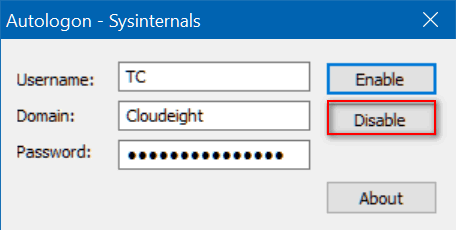 Remember… we recommend that you use a password or PIN to log in to Windows every time.