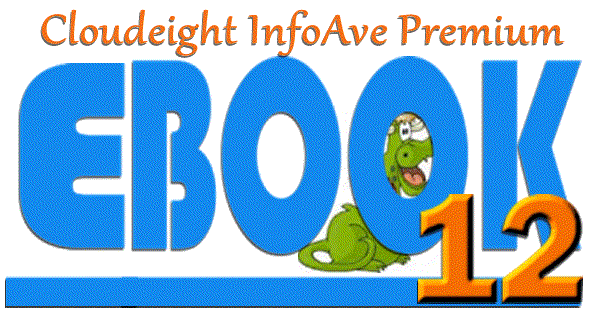 All of the content from all 52 issues of the 12th year of InfoAve Premium
All in one handy Ebook! Bonus: Includes InfoAve Premium Ebook Volume 11 too!

Our new Ebooks are compatible with 32-bit & 64-bit versions of:
Windows XP, Vista, Windows 7, Windows 8x, Windows 10
This Ebook contains the all information from our twelfth year of Information Avenue Premium… the past year's issues #572 through #624. We know you will find this both a useful and valuable resource! Ebook 11 contains the entire prior year. Learn more…
LEARN MORE OR GET YOUR COPY OF OUR INFOAVE PREMIUM EBOOK 12 HERE
Cloudeight InfoAve Premium Ebook Volume 12:
Let's Talk! This Ebook can read aloud to you! This Ebook supports Speech APIs so that it can be used to say the selected text or the entire document aloud using headphones or speakers. If you are not sure if your computer supports this, just give it a try! Click the text to speech icon in the top menu of your Ebook (the little green arrow in the callout near the middle – see below).
Great Search Feature! Ultra Fast Search eBook Feature allows you to search all pages containing keywords. To make the search more convenient, the eBook highlights words found on a page. Just click the magnifying glass icon (see toolbar above) to do a search. You can do specific searches using search strings too, by right clicking any open page of the Ebook. Learn more…
Don't worry! This Ebook opens where you left off! When you close your Ebook, it will open where you left off and retain its size, position and also the last opened page. You can also resize the Ebook to make it larger or smaller, or full size (the size of your monitor). Learn more…


Windows 10 Users: This Ebook works great in all versions of Windows, including Windows 10. And while many of the articles in this book were written prior to the official release of Windows 10 – we were using 10 for quite a while before the release – so there's quite a bit of information for Windows 10.  And you'll find that many of the tips and questions apply to Windows 7, Windows 8x and Windows 10 – so there's plenty of useful information no matter what version of Windows you're using. Learn more…
Learn more, see screen shots and/or order our new InfoAve Premium E-book 12 by visiting this page!
Watch the Video below to see how easy it is to use our new Cloudeight InfoAve Premium E-book 12.