How to change your start menu and taskbar colors in Windows 10
You have a beautiful desktop, pretty autumn leaves mostly yellow and orange with a little brown and red. Looks great. However your start menu background looks awful – looks like pooey brown. Ugly! (Is pooey a word?). How on Earth did your Windows 10 start menu get to be such an ugly color?
Why? Windows 10, by default, picks a color from your desktop background. Windows is obviously color blind or the people who made are color blind or else they thought they were saving you a bunch of work, when all there were doing for some of you is making you sigh in exasperation.
Lucky for you, you don't have to put up with the yucky color Windows has picked for you from your colors. Nope. You can change it in a flash. And while you're at it you can color your taskbar the same color  as you start menu background, or you can make it transparent – which is kind of cool if you want your background to show through.
To be honest, as of right now, the transparency is iffy. If Microsoft calls it transparent then I'd hate to see their windows – and I don't mean Windows.
You can get to the following two ways – you can right-click on your pretty desktop (in an empty area with no icons) and choose "Personalize", or you can click Start —> Settings —> Personalization.  Now that you're in Personalization, get personal. Click on Colors in the left pane, and switch "Automatically pick an accent color from my background" as shown below.
Choose a color. For this example I chose a dark lavender, lilacy kind of color. And so? I don't know fancy color names! Note in the image below I've turned on "Show color on Start, taskbar, and action center" and the switch for "Make Start, taskbar and action center transparent", as shown beautifully below: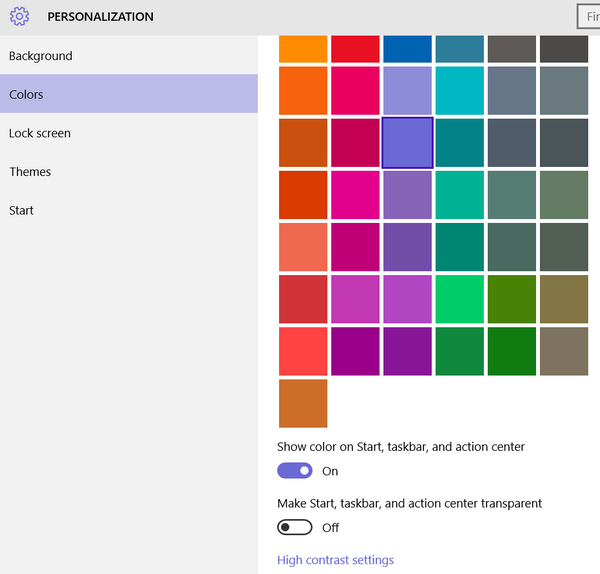 And you can see I have a beautifully colored start menu – at least better than the pooey brown it was. I know the taskbar looks black but it's not, I promise  – you'll soon see.
Taking color to a garish new level – behold below…see the taskbar is certainly festive, no?
Below, behold Microsoft's idea of transparent Start and taskbar – looks black right? If you look very closely at the Start menu, you can junk open behind the Start menu about as visible as distressed carp in a muddy pond. This is what you'll get if you turn color off and transparency on:
You have a great many choices if you stop allowing Windows to choose a color for you and choose a color yourself. As for transparency, what can I say? Do you like distressed carp swimming in a muddy pond?