Scamadviser 
Every time EB sends me a Web site to check out for our Site of the Week pick, I cringe. You have to remember it takes a long time to write this newsletter (and a long time to read it) and when I get a site suggestion from EB, I almost always have to feature it as our Site of the Week or she gets surly and treats me poorly; sometimes she even beats me. But I also know, that whatever site pick she suggests is going to be good for one thing — entertaining and fun, but that means I waste too much time "checking it out".
But this week she surprised me. She actually suggested a site we can all use…especially those of you who buy online and wonder about the trustworthiness of the site from which you're buying. Her site suggestion this week is Scamadviser.com and it's no waste of time. It is fast and easy to use and gives you important information you need whenever you're about to make or considering making a purchase from a site you're not familiar with. All you have to do is enter the URL or name of the site and click the "Check it now" button and you'll get a ton of information about the site and a recommendation as to whether the site is safe to buy from or not.
Just to make sure this site actually worked, I decided to check out Thundercloud.net to see if Cloudeight is a safe place from which to buy things.


Yessssssssss! We are safe. Please buy something from us! We are SAFE!


Lots of visitors but few buy anything. We're safe! We're broke!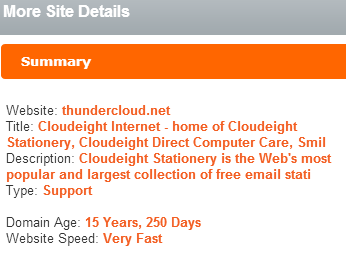 I can't fathom how we've stayed online for nearly 16 years. I guess when Microsoft killed our stationery site with their decision to remove a viable email client from Windows, our income has gotten smaller…much smaller. But EB makes a great gruel and she ships me 8 pounds a week – one pound per day, two pounds on Sunday – and so we both subsist almost entirely on gruel and oyster crackers — they're only 98 cents for a decent sized bag at Walmart!  It's all we can afford. You can be a booster and maybe next week she will send me a fish? I'm so tired of eating gruel. And we're SAFE to buy from, did I tell ya that?
See? We're safe I tells ya!

No InfoAve Premium article would be complete with a little filler from the author/creator/webmaster — so here it be:
"Scamadviser.com is a FREE website allowing people to quickly check a website they are about to buy something from. Allowing online shoppers to find out those facts they really should know before using their credit cards.
If we have helped you or you like what we are doing then feel free to donate and help scamadviser continue to fight online fraud."
EB has come through this week with a winner and not a time waster. This site is useful…I will have to see if she has a fever or has otherwise suffered mental issues.
While I'm checking EB for fever and mental aberrations, you should be vesting http://scamadviser.com/ and checking out the sites you are considering buying from.
EB! It's 104.6!