Cloudeight Stationery Newsletter
Decemeber 7, 2012
Dear friends,
Christmas is just over two weeks away and we are happy to introduce our first new Christmas stationery collection of 2012. Today We're introducing Christmas Present . It's our newest collection of Christmas stationery.
Before we introduce our new stationery and QuickNotes collections, we'd like to remind all of you who are using Windows 7 (and Windows 8 coming soon!) that you can use all our stationery. We can bring back Windows Mail in both Windows 7 and Windows 8 with our new Cloudeight Direct Computer Care Windows Mail Setup service.
Learn more about our Cloudeight Direct Computer Care Windows Mail Setup service here!
Now on with the newsletter…
---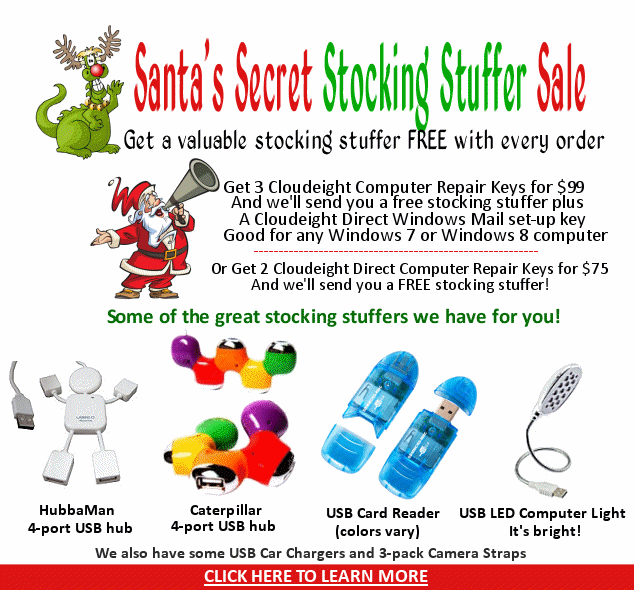 Santa's Secret Stocking Stuffer Sale!
Get a free stocking stuffer with every purchase. Great for any computer user!
This sale features two great packages!
Get 3 Cloudeight Direct Computer Care Repair Keys for $99 and get a free stocking stuffer plus a Cloudeight Direct Windows Mail setup — bringing Windows Mail to any Windows 7 or Windows 8 computer. That's right — you get three computer repair sessions for just $99 – pluse you get a free Windows Mail setup session and a Santa's Secret Stocking Stuffer!
Get 2 Cloudeight Direct Computer Repair Keys for $75 and get a free stocking stuffer. Get two Cloudeight Direct Computer repair sessions for just $75 — and get  a free Santa's Secret Stocking Stuffer.
We'll even ship the stocking stuffer to you free!
What are you waiting for?   Get this fantasitc deal on our Cloudeight Direct Computer Care service  and your free stocking stuffer. Get more details or order this special deal right now.
---
Christmas Present
Our newest Christmas Stationery collection
Our newest collection of Christmas stationery is called "Christmas Present". Christmas Present features a wide variety of Christmas and winter designs. We know you'll find exactly the right stationery for all your Christmas emais this season in our new Christmas Present collection.
Our Christmas Present collection features the following stationery:
Blue Bulbs
Christmas Window
Decorating the Tree
Home for Christmas
Merry Christmas
One Horse Sleigh
Santa
Snowbird
Our Christmas Present Christmas Stationery Colllection features traditional music too. You'll find the stationery in this collection is perfect suited for sending your best Christmas wishes to your family and friends!
You're invited to come preview, download and share our newest Christmas stationery collection – Christmas Present.
Merry Christmas everyone!
---
We can bring back Windows Mail in Windows 7 and Windows 8
Missing Windows Mail or Outlook Express since updating to Windows 7? Are you putting off the update so you don't lose your tried and true email program? We can fix that for you !
If you're using Windows 7 and you've been unhappy that Microsoft took away Outlook Express / Windows Mail — we have some good news for you. We are very excited and pleased to announce that we have developed a way to bring Windows Mail to Windows 7 (we even have it working in Windows 8 Release Preview!).
We will connect to your Windows 7 computer (and those of you who've used our Cloudeight Direct Computer Care Service know how easy that is) and get Windows Mail working for you, setup up to three email accounts, import your contacts and email messages from Windows Live Mail (if necessary).
If you're not familiar with Windows Mail (not Windows Live Mail!), Windows Mail was the email program in Windows Vista that was an updated version of Outlook Express. You can do everything you did with Outlook Express with Windows Mail – including using Cloudeight Stationery (complete with scrolling and music — if you like). But more than that – you get a great email program that puts every other email program we've ever tried to shame.
We've been using Windows Mail on Windows 7 and Windows 8 (preview release) for a while now — and all we can say is WOW! It's good to have it back.
If you're fed up with Windows Live Mail, Thunderbird, IncrediMail and other email programs that don't work like Outlook Express and Windows Mail do – you're in luck. We can make Windows Mail work on your Windows 7 computer and you can enjoy the very best email program ever — and ever have to settle for second-best again.
---
Christmas Present QuickNotes Collection
QuickNotes Collection for Christmas
The QuickNotes version of our Christmas Present collection features the same great stationery designs as our Christmas Present stationery collection but without the scrolling or music. So if you want to send simple Christmas greetings without the scrolling and music, you'll find our Christmas Present QuickNotes collection is perfect for you.
Come preview, download and share our new Christmas Present QuickNotes stationery collection!
---
We've helped more than a thousand of you with your computers since we started our Cloudeight Direct  Computer Care Service! If you're having computer problems – we CAN help you!
We all know that sooner or later our computers are going to start having problems. We can help you with any computer need — from diagnosing and fixing Windows problems – to setting up a wireless network for you – to safeguarding by creating an image-based backup (the only kind that really works when you really need it to work) – to cleaning up your computer and optimizing it — and more. We can do almost anything you need done and we guarantee our work – you're either satisfied or we'll refund your money.
We connect to your computer and fix it while you watch
We will connect to your computer via the Internet and fix any problems you may be having. You can  watch us work and chat with us while we do. If you have any computer questions you'd like to ask we'll be glad to answer them for you.  We don't just fix your computer, we explain what we're doing and why we're doing it and we are right there with the entire time. Since we've started we've helped hundreds of you with your computer problems and we've received dozens of referrals and testimonials from our readers and customers.
We offer many other computer services too! If you have a problem with your computer – we can fix it!
Get more information about Cloudeight Direct Computer Care and / or get your repair keys here.
---
Thanks for your support  and for subscribing to Cloudeight Stationery news. We hope you enjoy both our Haunted Studio IV stationery collection, and our new Haunted Studio IV QuickNotes collection — both feature the amazing Christmas art of Lewis Barrett Lehrman!
We'll be back soon with another collection of Cloudeight stationery and QuickNotes!.
Thank you all very much!
TC & EB
Cloudeight Stationery
October 23, 2012
---
Published by:
Cloudeight Internet
PO Box 73
Middleville, MI USA 49333