Hi. This is TC. For over 15 years now, I've prided myself on keeping my desktop free of unnecessary and/or unwanted icons. I am not a neat freak. I simple don't see the point in having so many icons on the desktop that I cannot find what I'm looking for — it makes no sense since the reason anyone puts anything on their desktop is so they can find it quickly. So all these years I've been keeping my desktop clean and neat and then along comes Windows 8 (and 8.1) whose design actually makes the cluttered desktop (called "the Start Screen") the norm. Just because the tiles are 25 times bigger than the old desktop icons makes no difference — it's clutter and I don't like it. Windows 8.1 adds a start button — but it doesn't lead to a start menu — so it makes no sense to me why it has 1/2 of a start button.
So I use Classic Shell start menu on my Windows 8. It gives me back my uncluttered desktop and I never have to look at the cluttered Start Screen — EVER! (Unless I really really want to.). Now my Windows 8 desktop looks like my Windows 7 desktop – clean and neat. The programs I use most often are shortcuts on my taskbar, and my desktop is reserved for only a very few shortcuts and folders that I used most often.
If you don't have Windows 8 — but will be getting it soon, you should pay a tribute to neat and tidy — don't allow yourself to be swallowed up by those garrish kindergarten-primary-colored tiles. Man-up (or Woman-up?) and get Classic Shell — a truly great, free,, start button and start menu for Windows 8 and Windows 8.1.
Here's a bit about Classic Shell from the developers who make a wonderful start button and a rather drab-looking Web site:
"Classic Shell™ is free software that improves your productivity, enhances the usability of Windows and empowers you to use the computer the way you like it. The main features are:
Highly customizable start menu with multiple styles and skins
Quick access to recent, frequently-used, or pinned programs
Find programs, settings, files and documents
Start button for Windows 7, Windows 8 and Windows 8.1
Toolbar and status bar for Windows Explorer
Caption and status bar for Internet Explorer
Classic Shell has been in active development for 4 years and has over 9 million downloads.
Classic Shell works on Windows 7, Windows 8, Windows 8.1 and their server counterparts (Windows Server 2008 R2, Windows Server 2012, and Windows Server 2012 R2). Both 32 and 64-bit versions are supported. The same installer works for all versions…"
You'll be happy to know that EB has approved this message; Classic Shell is her Windows 8 start button of choice too. So you can rest easy knowing she approves 100%.
Want to learn more or download Classic Shell for Windows 7 and Windows 8? See http://classicshell.net/  right now.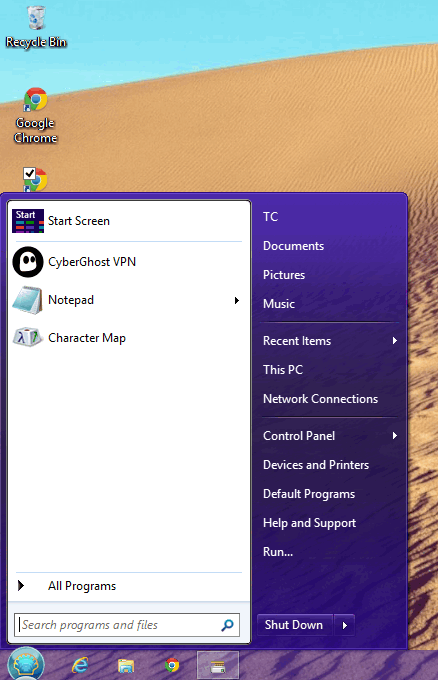 Above – Classic Shell Start Button and Start Menu running on Windows 8.1  (64-bit)
Classic Shell works on Windows 8 and Windows 8.1 as well as on Windows 7 — and it works on 32-bit and 64-bit computers too.