Do You Like Movies?
I'm a big fan of classic movies. You know the old ones with Gary Cooper, Humphrey Bogart, Gregory Peck, Katherine Hepburn – well you get the idea. I also have Netflix and Amazon Prime. Most of my free time in the evenings I spend watching old movies on TCM (Turner Classic Movies) or on Netflix or Amazon Prime.
But here's the catch. You can waste hours rooting through Netflix and/or Amazon Prime trying to find a great movie to watch – if you have Netflix or Amazon Prime or some other movie service, I know you know what I mean.
When I discovered Cinesift, I was hooked right away. I could browse through movies, see what movie-rating sites like Rotten Tomatoes and IMDb rate them, and even see what other movie-watchers like me think about them. And you can filter your search results by the service(s) you use. For instance, if you use Netflix, you can browse through movies offered on Netflix. If you're an Amazon Prime subscriber, you can search for movies you can find on that service. Or, if you're like me and you have no life save for watching movies and have both Netflix and Amazon Prime, you can filter your results so you can see both of them.
And if you don't have Netflix or Amazon Prime, you can filter your movie results to show only movies available on DVD.
You can search by genre, by title, or just browse through all the movies (it will take you a long, long time. There are thousands of movies here – not that I've counted them all.)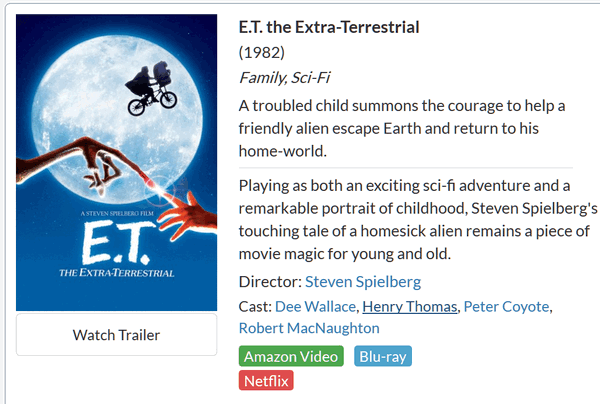 Above: Love poor little ET. He's on Amazon Video and Netflix. I'm all set. TC phone home! And did you notice (look up), you can even watch a trailer of any movie you find on Cinesift?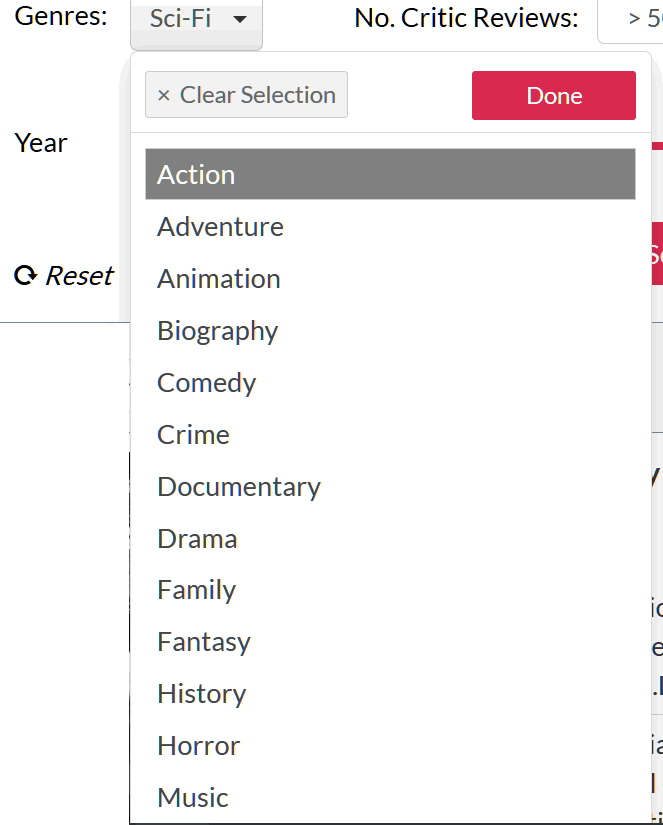 Whatever genre you like, you'll find it listed here. (OK EB – ALMOST all genres are listed here.) You can chose one or two or three or more genres to search at one time. Or search them all.
There is so much good about this site, and so many search tools and so many movies listed, you'll really have to go see for yourself, cuz I'm out of time. EB wants to feed me my daily gruel.
See ya!