Find Things Faster On Windows 10
We've come to learn, as far as finding things on our PCs, Cortana isn't the fastest gun in the Wild, Wild West. If you're searching for something on your computer, we're going to show you a faster way to find it, and it's easy to use too.
Press the Windows Key + E to open File Explorer (formerly known as Windows Explorer)
Up above the file/folder/drive listing you'll see a very faint search box with "Search this PC" barely visible. See above. Let's zoom in, shall we?
Apparently, Microsoft wants you to use Cortana as they don't make this optional (and faster) search very noticeable, but thanks to our resident Hawkeye, EB, who discovered this little trick, we can all search our Windows 10 PCs a little faster!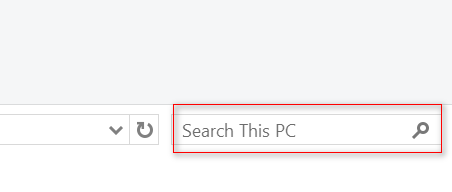 Another helpful hint. If you know the folder that the file you're looking for is in, switch to that folder first and then search – it's even faster!