Force Windows 10's Cortana to Search With Google Rather Than Bing
Do you want to know how Microsoft came up with the name for its search engine? Here's a hint: I'm dreaming of  white Christmas…Just like the ones I used to know…" Now if you know the name of the singer that made that song famous, then you'll know where Microsoft lifted the name "Bing".
That has nothing to with this article however…so…
If you're using Windows 10, Cortana is your personal assistant (ala "Siri" for Apple devices). Other people consider Cortana as a personal nemesis – even a spy. While we are pretty sure Cortana is not spying on you, we can see why some people just don't like it. That being said, if you're one of the many people (a majority?) who like and use Cortana, you might have noticed that Windows 10 and Cortana lock you using into Microsoft Edge and Bing Search. And even if you change your default browser to Chrome or Firefox, Cortana will indeed obey and open your browser of choice, however, "she" will obstinately still route your searches through Bing. Now if you're a fan of Bing search then you're smelling roses here, but if you're one of the millions like us, who find Bing Search lacking, you're probably wondering if there is any way to stop Cortana from directing all your searches through Bing.
If you're one who prefers Chrome or Firefox and who also prefers Google search over Bing, we are going to show you how to force Cortana to use Chrome or Firefox and then to route all searches done through Cortana via Google.
How to force Cortana use Google Chrome or Firefox
First things first. You must have Chrome or Firefox installed to use this tip. And though you will have Internet Explorer a choice of default browser, you can't use it if you want to avoid Bing.
Next: You have to set Chrome or Firefox as your default browser. And that is very easy to do.
Click Start —-> Settings —–> System —-> Default Apps
Scroll down to Web browser and click the big + sign. When you do a list of installed browsers will appear. Choose Chrome (or Firefox) and that's that.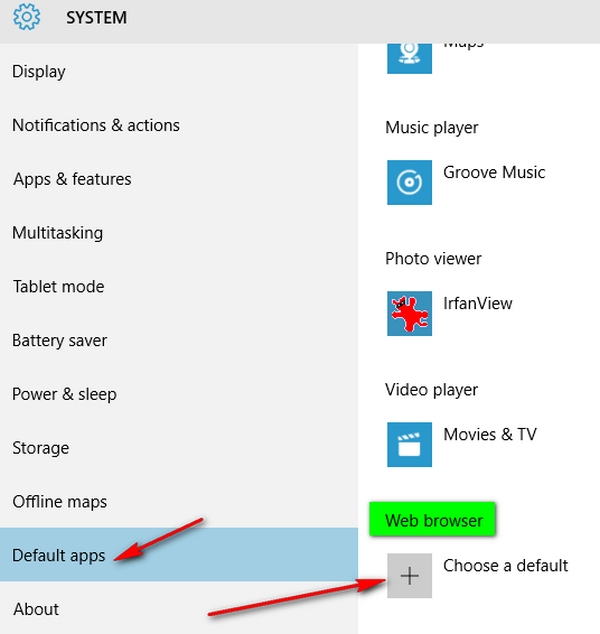 Now Cortana will bend to your will and use your default browser – your browser of choice – to do all searches. However it will force Chrome (or Firefox) to use Bing to conduct any searches you initiate with Cortana.
(A little aside): If you ask Cortana, "What's the smallest country on Earth" . Cortana will open your default browser and route your search through Bing and the frist thing that comes up is:
"Based on landmass, Vatican City is the smallest country in the world, measuring just 0.2 square miles, almost 120 times smaller than the island of Manhattan."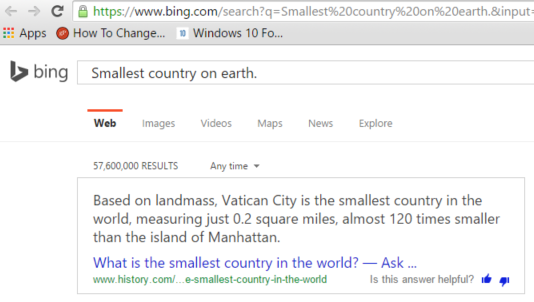 An example of searching with Cortana using voice commands. The screenshot above shows how Cortana handles a search by default – you ask "her" a question and "she" does your search for you.
Now, getting Cortana to use Google search in Chrome or Firefox is a simple matter of installing an extension called bing2google in Chrome or a script (with the same name) in Firefox. Once you install the free extension in Chrome or the free script in Firefox, all you searches will be done via Google.
You can get the extension for Chrome here
You can get the script for Firefox here
You might think that installing a go between to route Cortana/Bing searches through Google would slow things down. But we didn't notice any difference in the amount of time it took to complete a search.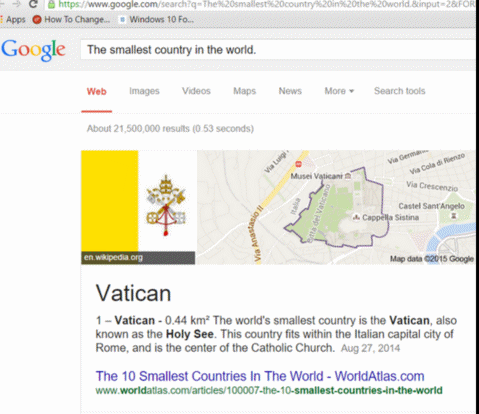 We asked Cortana the same question "What is the smallest country on Earth" after installing the Bing2Google extension in Google Chrome As you can see in the picture above that the search was done via Google.
I don't know, it's kind of nice asking a question verbally rather than typing it, especially when your swigging beer and eating chips or when searching for definitions of words with a lot of letters like  sesquipedalian .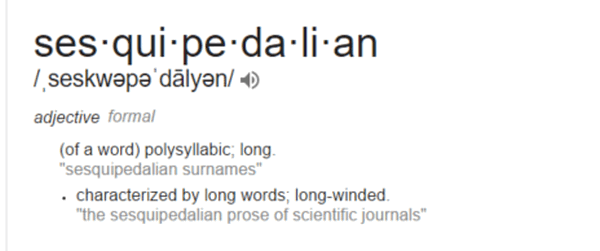 Wow…it sounds like the definition of TC, doesn't it?