A few years ago we made Fotomix a freeware pick of the week. It was great freeware, it was a great program. Then greed reared its ugly head. We received an email from Doug — one of our Premium subscribers – alerted us to Fotomix's intrepid bundling. There's no way to stop it from installing its ugly payload, he said. We had already pulled Fotomix from our list of good freeware — but we didn't realize how bad it had become.
We decided to go ahead and install Fotomix and then do a system restore to get rid of it so we could show you how bad bundling can be. Here's our report: Fotomix — Anatomy of a Bundler.
1. I saw the notice for Fotomix that I would have an "offer" to install toolbars, etc.

2. My Internet Explorer Browser before the install of FotoMix


3. I clicked to install FotoMix and was given option to install the FunMoods toolbars, and I made certain to uncheck so that they would not install.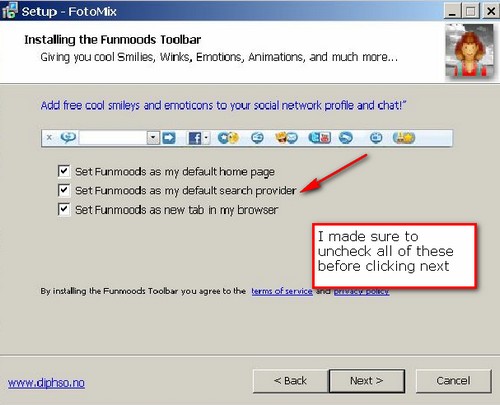 4. The install completed, and no indication that FunMoods toolbars were installing; it appeared just FotoMix was installing.


5. Upon completion of the install, I reopened my browser and found that FunMoods had hijacked my home page, had installed the toolbar which included numerous other items, and my search was changed to FunMoods Search. I did a search for Cloudeight Stationery and while we always appear at the top of search engines, all I got was a number of ads instead. See screenshot below. (Note: It also installed on Chrome as well)
It also installed a bunch of shortcuts to webpages on my desktop. I checked Task Manager and a number of FunMoods products were running. In add/remove programs it showed it was almost two gig in size. Uninstall did not work so I had to do a system restore.
FunMoods does not easily identify who they are; on their "about us" page, they simply call themselves the FunMoods team: http://funmoods.com/about . They don't give their email on their contact form, so they remain elusive there as well. If you join their affiliate network for their "free" program, you can get paid for every download: http://funmoods.com/affiliates  so this encourages freeware companies to cheat, unfortunately.
I searched through every page on their site, through their Terms of Service (TOS) and through their Privacy Policy and not a single page identifies who "FunMoods" is or where they are from. They only refer to themselves as FunMoods.
I did a DNS search and found the company is Volonet LTD; apparently owner is Ami Bursin who has a profile set up with LinkedIn: http://www.linkedin.com/company/volonet-ltd  Turns out he is from Israel: Ami Burstin, Marketing Manager Volonet ltd , Privately Held; Internet industry, February 2012 – Present (3 months). He does a good job of disguising who he is and where he is from. Why? We don't know.