Genie Timeline 2014 Makes It Easy To Backup Your Computer

The number one reason people don't backup their computers is because most backup programs are somewhat difficult to use. Most all of the backup programs available require users to be at least have intermediate computer skills in order to use them. Up until now, there hasn't been a backup software program that is easy for beginners to use, but advanced enough to satisfy even the most skilled computer user.
Thanks to our friends at Emsisoft, we were given a chance to try the backup program they recommend – Genie Timeline 2014. And we were impressed. It's so easy to set up, even the newest and least experienced computer will be able to setup regular backups and be able to use them should it become necessary to restore from a backup. And it offers "Set it and forget it" backups. Incrementally backing up your files and folders (or your hard drive image) so you always have the latest copy of your files backed up.
They say a picture is worth a thousand words, so a bunch of pictures should be worth a bunch of thousands of words right? You can see from the pictures below, just how simple and elegant Genie Timeline 2014 really is: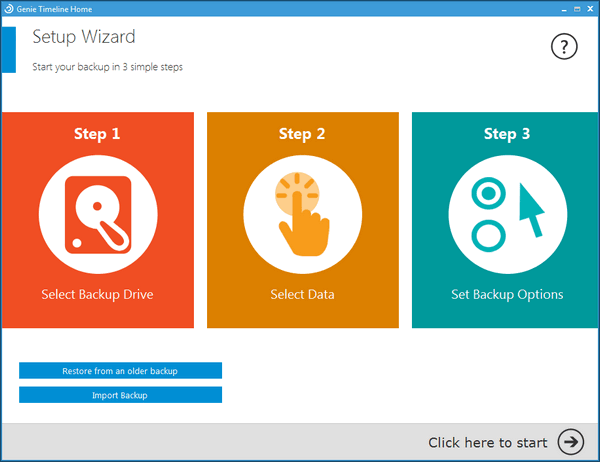 The first step is choosing a drive to store your backups. An external hard drive is perfect for storing backups — and they're very inexpensive these days too. If you don't have one, you should get one — it's good insurance and a wise investment. Don't get one smaller than 500GB though – 1 Terabyte is recommended. A 1 TB external drive should cost you less than $80, if you shop around.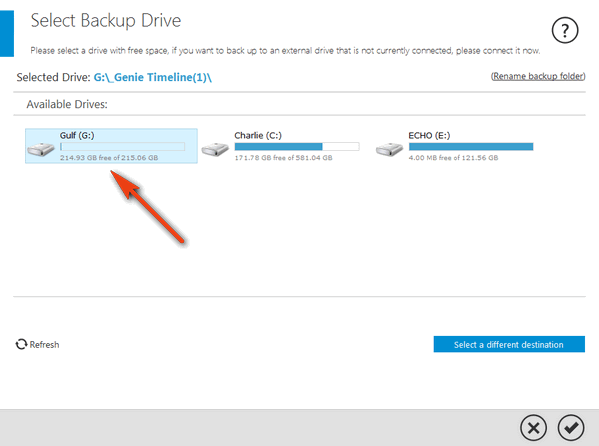 Above: I've selected my G:\ drive to store the backup. See?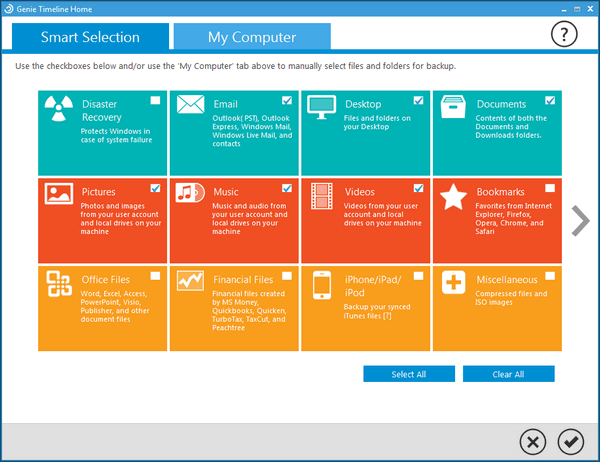 Next you can choose what to back up. You can choose to "Select all" and backup everything, or pick what you want to back up. If you choose Smart Selection (see above) it will back up your email, desktop, documents, pictures, music, and videos. If your bookmarks (favorites) are important to you, you can check that box too — or any of the other items if they're important to you.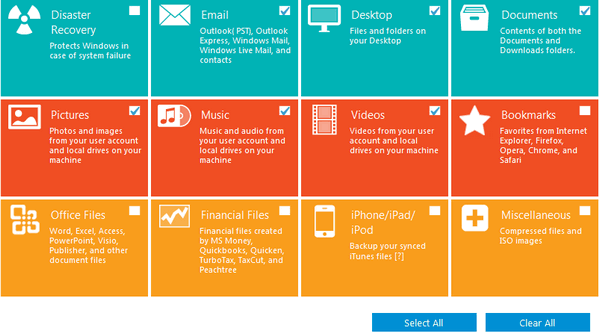 A closer view.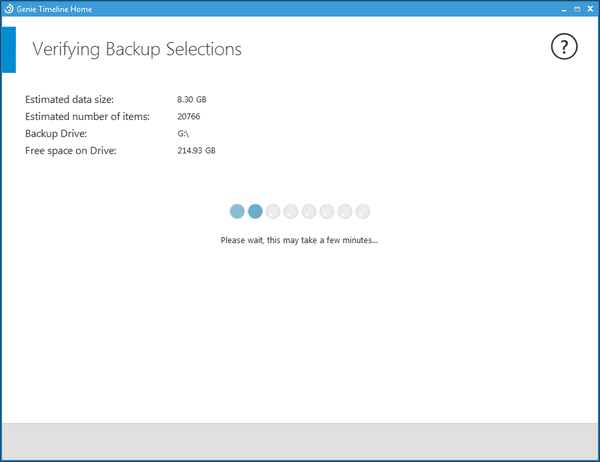 Genie Timeline is preparing your backup based on what you've chosen to back up.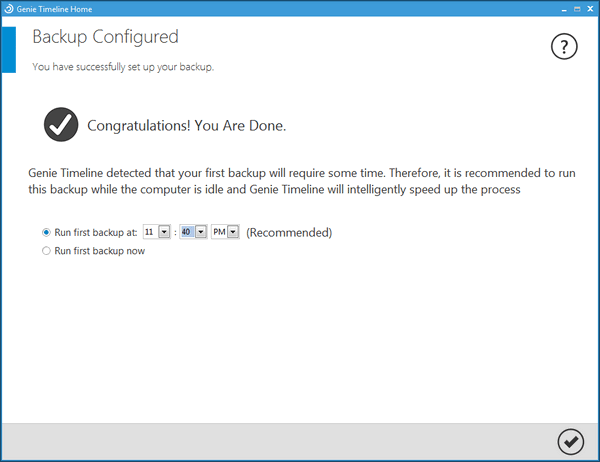 Your back up is created. It's recommended that the backup be created when you're not using your computer so that your backup can be made more quickly — and so it doesn't interfere with your work or play. As you can see above, I have mine set up for 11:40PM tonight. I think I'll be done working by then.

We highly recommend that (if you register the program) you download the Disaster Recovery Startup Disk – so you can boot your computer should Windows refuse to boot up.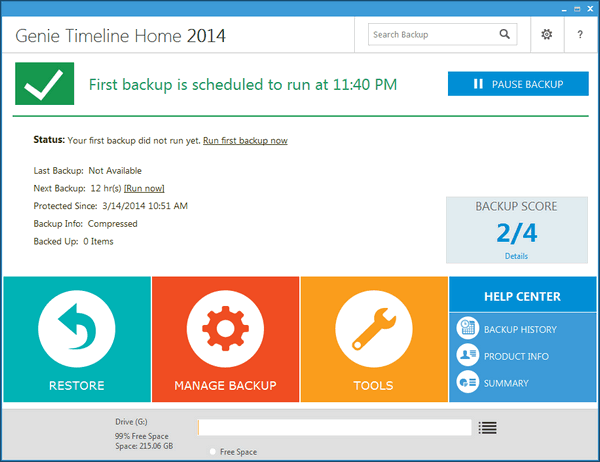 And that's it! Your backup is scheduled to run at 11:40PM and Genie Timeline will keep my backup updated automatically from now on.
How you can get this $60 program FREE!
You can buy Genie Timeline 2014 for $59.95 – or you can get it free from us (while supplies last) when you buy Emsisoft Anti-Malware or renew your Emsisoft license for an additional year. Thanks to our great relationship with Emsisoft, we able to offer you a $60 program FREE with the purchase of Emsisoft Anti-Malware. If you already have Emsisoft, you can buy another license and use it when your current license expires and get an additional 12 months of award-winning Emsisoft Anti-Malware and antivirus protection. Your Genie Timeline 2014 license is a lifetimelicense.
We have a limited number of Genie Timeline 2014 LIFETIME registration keys to give away. So if you want one, we suggest you buy Emsisoft Anti-Malware right now. If you already have Emsisoft, you can buy another license and use it when your current license expires – and take advantage of this very special offer!  See http://thundercloud.net/emsisoft/2014/genie/ to get yours before they're gone.
Genie Timeline 2014 works on Windows XP, Windows Vista, Windows 7, Windows 8.x. It works on 32-bit and 64-bit systems.