How many of you who have Gmail accounts have noticed the link at the bottom of Gmail account main page that says "Last account activity… Details" (which Details being underlined as a clickable link)?
If you haven't seen it before, open your Gmail account right now, sign in and click the link "Details" next to "Last account activity" near the bottom right of the page. If you've accessed your account recently you'll see when you last accessed it, your IP address and how you accessed it (Google Toolbar, POP3 (email program), via your mobile device, or your browser). The IP address will have your location after it.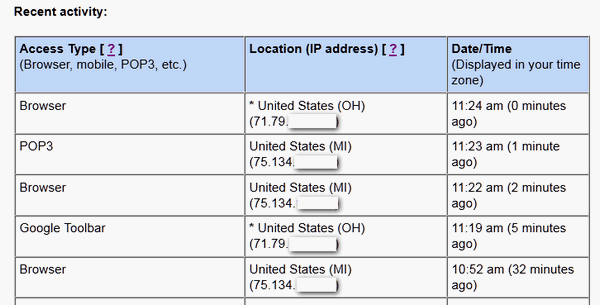 So why would you want to do this? It's a good way to check to make sure that no one else is accessing your Gmail account – or snooping around. If you're using an ISP who does not assign you a static IP address (one that does not change frequently) then you may find the last 3 digits of your IP address have changed since you last logged into Gmail. That's fine. However if you see a completely different IP address, from a different location than where you are, then you may have a problem.
It's a good time to remind you that your Gmail account's security is only as good as your password. If you're using a weak password, then you're playing with fire. You are counting on luck to keep your account and all the information you store in it from prying eyes. Please do yourself a favor and change your passwords to all of your Web accounts while you're thinking about it. Don't be one of those people who think it can't happen to them – it can happen to anyone.