How Find Your WiFi Network Password
Everyone should be using a WiFi password for their home network. And most of us do. And most of us let Windows remember that password for us, so we don't have to type it in whenever we boot up and connect. But sometimes, for instance when setting up another computer, a tablet, or a smartphone, you may need to know the network password. And if you don't remember what it was, you'll be fumbling around trying to get those other devices connected.
Thankfully, it is really easy to find your network password. All you need to do is enter in a simple command and in just a minute or two you'll know what your network password is.
Here's how you do it:
Step one: Open a command prompt with administrator privileges:
On Windows 7, type CMD in the Start menu search, press Enter, – right-click CMD when it appears at the top and choose "Run as administrator".
On Windows 8, press Windows Key + S, type CMD press enter, right-click when it appears and then choose "Run as administrator".
On Windows 10, right-click the start button and click on "Command Prompt (Admin)"
Step two: Enter the following command, at the prompt in the Command Prompt windows. Substitute your WiFi network name for my network name OMAHA. Don't worry: network names are not case sensitive in Windows.
netsh wlan show profile name=OMAHA key=clear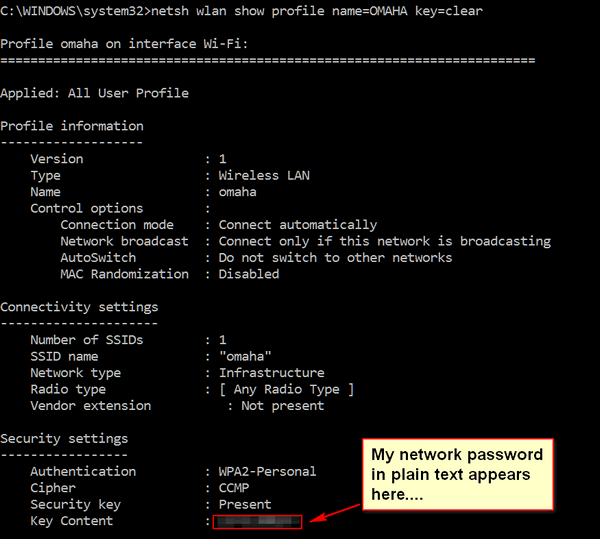 Above: My network password showing in plain text. No! You can't see it! I blurred it!
If you don't know the name of your network, you can find it in the Network & Sharing Center. You can find Network & Sharing Center in the Control Panel.
---

If you have upgraded to Windows 10 or you have purchased a new Windows 10 computer…..
We'll check your Windows 10 to make sure it's set up for best performance & privacy – and a lot more!
With our Windows 10 Checkup & Customization Service we will:
Check over your Windows 10 installation to make sure everything is set up right
Set your default apps to your preferences and check to make sure they have all their defaults
If you have an external hard drive – we'll set up File History backup and make sure it's working correctly
Check over Windows Update options, background apps, and Windows feedback settings for best performance & privacy
Install a Windows 7-style start menu for you, if you choose that option.
Service available for computers which were upgraded to Windows 10 or new computers with Windows 10 pre-installed.