How to Copy Text From "No Right Click" Web Pages
Have you ever visited a Web site and wanted to copy a few sentences of text, but you can't do it because the Web site developer has used JavaScript to disable right-clicking & copy? Sometimes you just want to copy a quote of the day or a recipe or a few lines from a poem. Now we are not advising you to violate anyone's intellectual property, but there are times when you would like to copy something either for your own use or to cite in something you're writing.
And before you write – we know about OneNote, Evernote, Readability, etc. And those are great and sometimes they allow you to right-click on pages where right-click has been disabled.
But the two free browser extensions below, make it easy to right-click and copy text from most pages that block right-click and copy. With the extensions installed, you should be able to right-click and copy from most web sites that block right-click and copy.
One of these extensions is for Chrome and one is for Firefox…and the one for Firefox is more sophisticated, the one for Chrome works pretty well.
For Google Chrome "RightToCopy"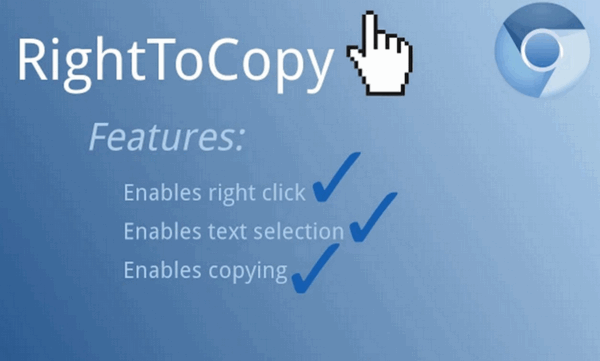 RightToCopy allows you to right click, highlight text, and copy text on pages that have disabled such features. It also removes injected text when copying (such as "Read more at example.com")
You can get more information and/or get this Chrome extension from here.
For Firefox "RightToClick"
Enables right-click, text selection, context-menu, drag&drop and much more where it is disabled by Javascript.

RightToClick protects from annoying alert pop-ups, can remove many timer actions and is able to suppress (unusual) click behavior. The highly sophisticated engine also offers options for fine tuning. Finally it's helpful with image downloads (also disabling CSS might be useful here).

How to use:
This add-on adds an icon to your add-on-bar which can restore Javascript-disabled features if clicked – or it does other actions according to your configuration. The RightToClick add-on-bar icon offers an enhanced mode on icon right-click (options). There is also a tool-bar button available.
You can read more about and/or get this Firefox extension (add-on) here.
Happy right-clicking, but please don't violate the intellectual property of others.