How to customize the Command Prompt in Windows 10
One of our theories as to why some people find the command prompt foreboding is that it's black and white; it looks too geeky — too DOS-like, and too arcane for many Windows users. B
Windows 10 allows you to easily customize your command prompt by changing the background color, font style, font color, transparency and even more… and it's easy to do.
Open a command prompt by typing CMD prompt by right-clicking on the Start button (or pressing Windows Key + X_ and click on Command Prompt or Command Prompt (admin).
Right-click on the Title bar and choose Properties:

Click on the Font tab (as below) – you can chose a bigger or smaller font – you can even choose "Bold" (see below):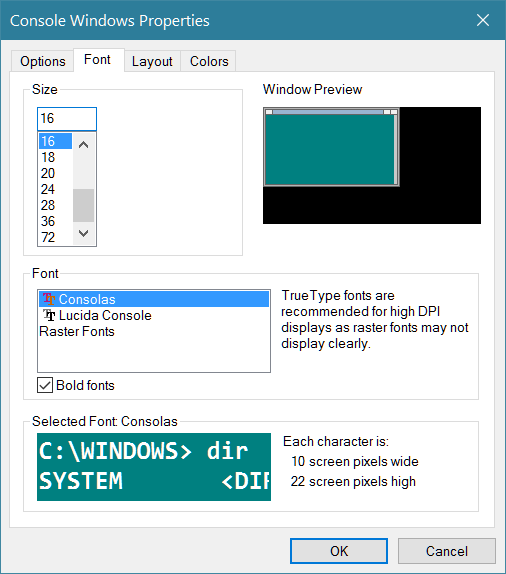 Now click on the "Colors" tab at the top.  You can change the Screen Text color by selecting the radio button next to "Screen Text" and clicking a color from the color bar.
You can select a background color too. Just tick the radio button next "Screen Background" and click on one of the colors in the color bar. It's best to make sure the text and background are contrasting colors unless you like to play "Find Waldo".
Also, you will note in the picture above, that you can change the Popup background and popup text colors too – just as you changed the background and text colors. It's easy, I tells ya!
Below you can see my white bold text on my greenish background (what color is that EB?). Looks sweet. Much better and less intimidating and less DOS-like than black and white, don't you agree?