Mike wants to know how to enable check boxes on Windows 8x
I just got a new computer with Windows 8 on it. I had Windows 7 before and in one of your newsletters you had an article about using checkboxes to select files in Windows Explorer.
I really loved the check boxes feature and used it all the time. But now I have a new computer with Windows 8 and I don't have that feature. My question is does Windows 8 have that feature and if it does how do I turn it on? I love your newsletters – I look forward to Fridays! Thanks, Mike.
Our Answer
Thanks Mike. You're in luck. Windows 8 has the checkbox feature too.
Here's how to turn on the checkboxes features in Windows 8.x:
1. Open Windows Explorer (Press the Windows key + E)
2. Click on the View on the Windows Explorer Ribbon (toolbar).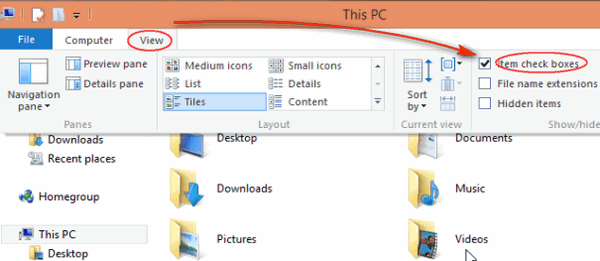 3. Check the box next to "Item check boxes". (See image above.)
4. Close Windows Explorer
You should now see check boxes at the top-left of a folder whenever you hover over it. There you go! Using Checkboxes is a great way to select multiple files in Windows 8.x .