How to Find Out Which Chrome Extensions and Tabs are Using the Most Resources
If you're a Google Chrome user, did you know you can find out which tabs and extensions are using up the most resources? You can, and you don't need to be a geek or techy either. Here's how to check what Chrome tabs and extensions are using the most system resources.
Click on the Chrome menu icon in the top right-hand corner of Chrome;  it looks like three vertical dots… see?
In the drop-down menu which appears when you click the menu icon, choose More Tools–> Task Manager: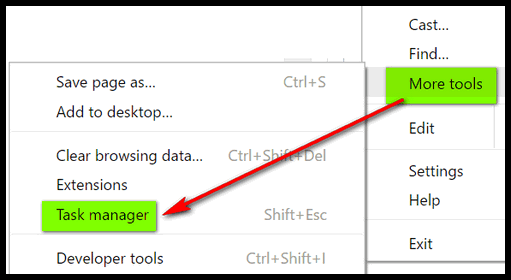 Or if you're a shortcut fan, just press Shift+Esc (make sure Chrome is open and in focus).
If you did all that right, Chrome's built-in Task Manager will open. As can see below, two tabs are using up a lot of memory (RAM). One is Gmail – and that's OK… I need that. But Speed Test is using up a hunk of RAM and I don't need it running anymore. So I can either close its tab in Chrome, or just highlight in Task Manager and click the  End Process button near the bottom-right of Chrome's Task Manager.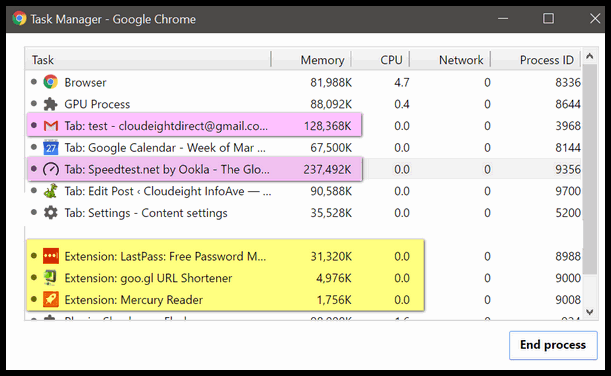 I've highlighted two high-resource tabs in pink, and 3 of my extensions in yellow. As you can see I don't have any resource gobbling extensions.
Now you know how to see what extensions and what Chrome tabs are using the most resources. Chrome's Task Manager lets you shut down those resource hungry tabs that you're probably not using.