How to Fix Google Chrome Problems
One of the best things about using Chrome (or Firefox) instead of IE is that if things start going badly with those browsers, you can completely remove them from your system and re-install them. You don't have that option with IE. You can "reset"  IE – but that's not a fix for all problems and it certainly does not remove IE and reinstall it. IE, despite claims to the contrary, is still very much part of the Windows operating system. Luckily that may change with Windows 10…we'll see.
OK, now on to your problem(s). You can try to 'reset' Chrome by going into Settings and scrolling all the way down to the bottom and clicking " Show advanced settings" . Then scroll all the way down to the bottom of Advanced Settings until you see this:

Click on the arrow (see above), the Reset dialog appears (see below).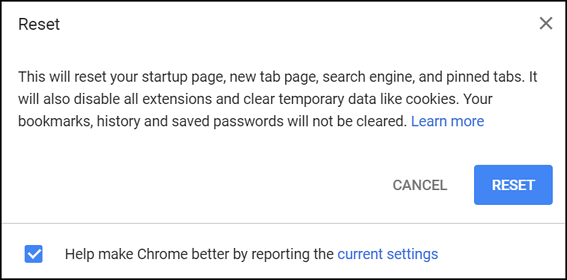 Click the Reset button. Wait while Chrome resets. When it's done,  close Chrome and re-open it.
If the above does not solve your problems, keep on reading!
If your problem is corrupted Chrome files, the above won't help, but don't worry. There are more than one ways to fix a flaky Chrome installation. Here's another way, and while it's more work this way is almost guaranteed to fix any problem with Chrome.
Before you proceed you may want to import your bookmarks from Chrome into IE (or  Firefox). After you've exported your bookmarks from Chrome to IE – continue on with this project. You can also export your Chrome bookmarks to an HTML file (web page). See this page to learn how.
First using something like Geek Uninstaller or Revo Uninstaller, completely uninstall Chrome. That's right remove it completely.
Now open Control/Appearance & Personalization/Folder Options (or Control Panel/Folder Options in list view) and click the "View" tab at the top. If you're using Windows 10, press Windows Key + E to open File Explorer, click on "View" then click on Options > "Change folder & search options" and you'll see a dialog that looks mysteriously like the one we all knew and loved in Windows  (see below):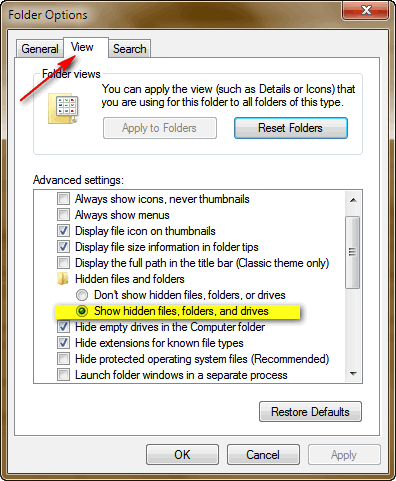 Make sure that "Show hidden files, folders, and drives" is ticked.
Now press the Windows Key + E to open Windows Explorer (File Explorer) and navigate to C: \ Users \ **YourUserName** \ AppData \ Local  …
Once you're there look for a folder called Google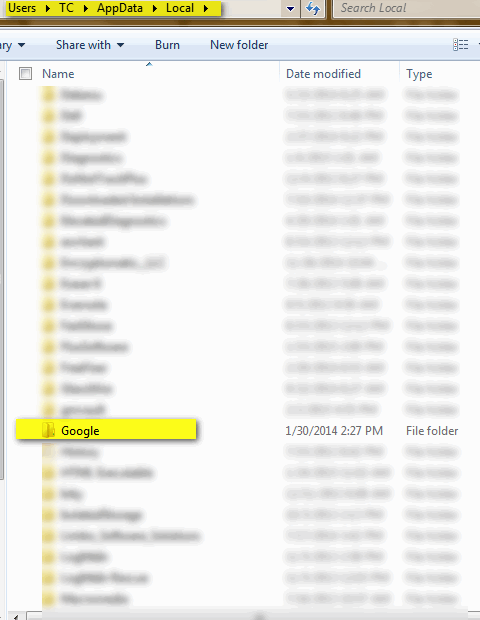 See the folder " Google ' in Users/**your user name**/AppData/ Local above? Good.
Now right-click on the Google folder and choose "Delete"  Yep that's right – delete it. And after you've done that re-start your computer. Now visit this page and download the Chrome stand alone installer.  Once you've downloaded it, double-click it to start the Chrome installation.
After Chrome has finished installing on your computer it will open automatically. Click on the settings icon (3 vertical dots) in the top right corner:
And choose Bookmarks…
Then choose "Import bookmarks and settings…"


Now you can import them:
If you exported them to Internet Explorer, import them from IE
If you exported them to Firefox, import them from Firefox
If you exported them to an HTML file, import them from the HTML file.
Once this is done, you will have to reinstall any extensions you want. You may find that you can simply re-enable many or most of them. If some of your extensions are missing, simply re-install them. Once you have all your bookmarks and extensions they way you want them, you're good to go.
We'll bet that Chrome will work perfectly for you once you've completed this project 🙂
If you have a Cloudeight Direct Computer Care Repair Key – we can do this for you if it seems like too much work 🙂
---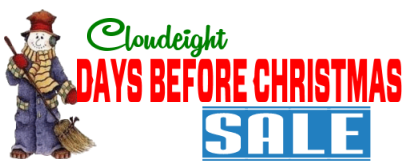 Sale prices good through Christmas Day!

Cloudeight Direct Computer Care Season Tickets 30% Off + FastStone Capture Pro FREE!

Emsisoft with free Cloudeight Installation + Ashampoo Backup Pro 11 all for just $29.
Cloudeight Direct Computer Care Repair Key 30% OFF + FastStone Capture Pro FREE!