How to fix your Chrome browser
Chrome and Firefox are excellent browsers and great replacements for IE or Microsoft Edge (Windows 10). However Chrome and Firefox are not perfect and they can be corrupted. And even if they become corrupted they can be completely repaired. This is not true of Internet Explorer or Microsoft Edge.
One of the best things about using Chrome (or Firefox) instead of IE or Microsoft Edge, is that if things start going badly with those browsers, you can completely remove them from your PC and re-install them. You don't have that option with IE or Edge. You can "reset"  IE – but that's not a fix for all problems and it certainly does not remove IE and reinstall it. IE, despite claims to the contrary, is still very much part of the Windows operating system and unfortunately Edge is part of Windows 10 too, although Microsoft, due to anti-trust fears, will claim it's not. But it is.
Firefox can be completely removed from any version of Windows too, but today we're going to concentrate on Chrome.  You can  'reset' Chrome by going into Settings and scrolling all the way down to the bottom and clicking " Show advanced settings" . Then scroll all the way down to the bottom of Advanced Settings until you see this: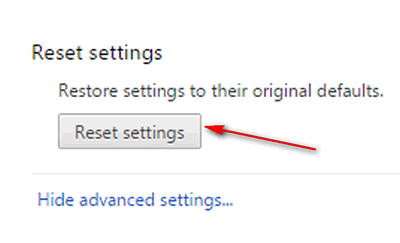 Click "Reset settings"  and restart chrome.
If your problem is corrupted Chrome files, the above won't help, but don't worry. Unlike Internet Explorer or Microsoft Edge, there are more than one way to fix a flaky Chrome installation. Here's another way, and while it's more work, this way is almost guaranteed to fix any problem you may be having with Chrome.
Before you proceed you may want to import your bookmarks from Chrome into IE (or Firefox) even if you don't like IE or Firefox, we can use either of them for this purpose. After you've imported your bookmarks from Chrome to IE or Firefox you can continue on with this project. (You can export bookmarks from Chrome too if you like, how ever this creates an HTML — web page – with all your favorites listed. But we think you'll like importing your bookmarks into a different browser and importing them back into Chrome when you're done reinstalling it.)
First using something like Geek Uninstaller or Revo Uninstaller, and completely uninstall Chrome completely from your computer.
But wait you've got more to do. Next open Control Panel/Appearance & Personalization/Folder Options (or Control Panel/Folder Options in list view) and click the "View" tab at the top.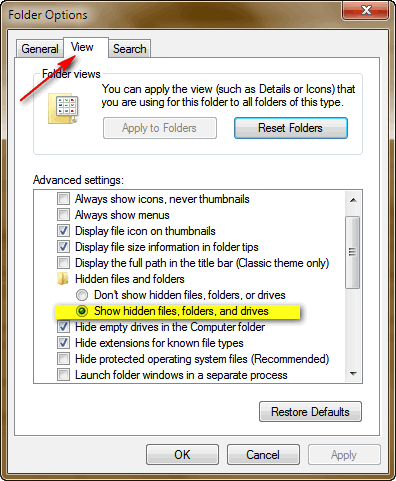 Make sure that "Show hidden files, folders, and drives" is ticked.
Now press the Windows Key + E to open Windows Explorer / File Explorer and navigate to C: \ Users \ **YourUserName** \ AppData \ Local  …
Once you're there look for a folder called Google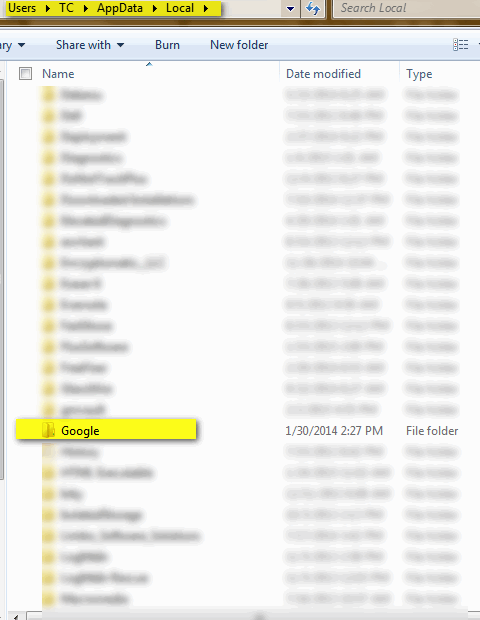 See the folder " Google ' in Users/**your user name**/AppData/ Local above? Good.
Now right-click on the Google folder and choose "Delete"  Yep that's right – delete it. And after you've done that re-start your computer. Now visit this page and download the Chrome stand alone installer.  Once you've downloaded it, double-click it to start the Chrome installation.
After Chrome has finished installing on your computer it will open automatically. Click on the settings icon in the top right corner:
And choose Bookmarks…


Then choose "Import bookmarks and settings" and then choose to import them from Internet Explorer or Firefox..
Once this is done, you will have to reinstall any extensions you want. Once you have all your bookmarks and extensions they way you want them, you're good to go.
We'll bet that Chrome will work perfectly for you once you've completed this project