How to Stop the Window 10 April 2018 Update From Installing on Your Windows 10 PC
Windows 10 April 2018 Update has been released and scheduled to be delivered via Windows Update beginning on Tuesday, May 8, 2018. However, those who have gone to Settings > Updates & security and clicked the "Check for updates" button have learned that clicking "Check for updates" indicates to Microsoft that you want the April 2018 Update right away. Once you click that button the April 2018 Update (Windows 10 version 1803) will start downloading and will install the next time you restart your computer.
It has been reported by many, including some that we trust, that Windows 10 April 2018 Update may not be quite ready for prime time. Rich Woods, from Neowin, is advising his readers to wait a while on the Windows 10 April 2018 Update until Microsoft fixes several bugs that are affecting those who have already installed the new version of Windows 10.
We have written about using Metered connection to stop Windows updates, but understand this may affect other things such as OneDrive. If you don't use OneDrive, Metered connection may work for you. See our tip on Metered connections here.
We just tested a program that will stop Windows updates completely. It's free. All you have to do is download it, install it and run it. Keep in mind, we are not advising you to turn off Windows updates permanently – we are offering this as a temporary solution to stall the Windows 10 April 2018 Update until Microsoft takes care of some of the serious bugs in this version update that have caused some (but certainly not all) early adopters to have major problems with their computers.
So, if you want to temporarily stop Windows Update so you won't automatically get the new Windows 10 version 1803 (April 2018 Update) then Win Update Stop v1.3 will stop it. Just run Win Update Stop and click the "Disable" button.
When you're ready to enable Windows Update, just run Win Update Stop again and click the "Enable" button.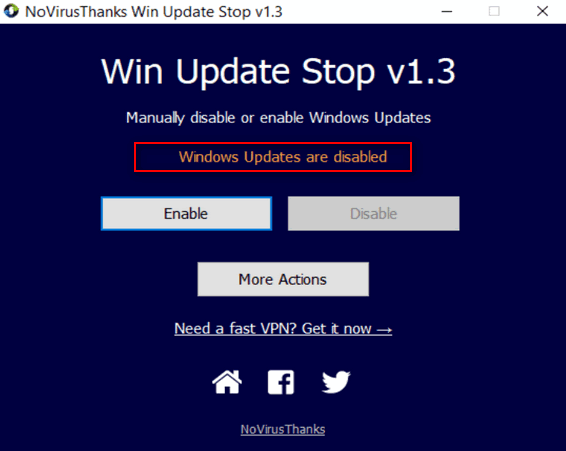 It's simple and easy to use. But again, we remind you, we are not advising you to turn off Windows Update for the long term. We are recommending Win Update Stop only to those Windows 10 users who want to temporarily block the Windows 10 April 2018 (AKA Spring Creators Update), until Microsoft fixes the problems that are causing major problems for some.
Here's some information from the developer:
Win Update Stop v1.3

This small Windows OS utility allows you to manually disable or enable automatic Windows updates. Sometimes you may want to stop Windows updates so you can choose when to download and install new Windows updates. As you know, Windows updates are very important but they are also known to occasionally create some incompatibilities or problems with the Operating System and the applications installed. Use this utility to block Windows updates and re-enable them when you desire.
Win Update Stop v1.3 is freeware and it's free from any malware. You can download it from here.