How to Take More Control of Windows Updates on Windows 10 Home
If you're using Windows 10 Home, you have no option to choose which updates to install.  If you're not using the anniversary edition, you can delay the updates by a few days; if you are using the anniversary edition, you can't delay the updates at all.
Without installing a 3rd-party program to stop Windows updates altogether (we certainly do not recommend that), there is no way to stop the endless parade of Windows 10 updates. Oh, but there is. And the way we're going to show you still allows you to get the critical updates, but forestalls major updates like Anniversary Edition and the upcoming Creator's Edition simply because they are huge updates and require a lot of bandwidth. And you can accomplish this is by turning on Metered Connection in Network & Sharing Center and tricking Windows Updates into thinking you're on a connection with a data cap. Windows will take into consideration that you don't have unlimited bandwidth (even if you do, turning on Metered connection tells Windows you don't) and carefully chose the updates that are downloaded giving you a little more say in the download process.
Before we get started, we do think that Windows 10 automatic updates are a pretty good idea. Security updates are crucial, and thankfully, they're normally not extremely large downloads and shouldn't be affected by our Metered-Connection trick. But large Windows updates like the Anniversary edition or the upcoming Creators update are huge and take a lot of bandwidth to download. If you have Metered connections turned on, it will give you more control over these kinds of updates and at least delay them.
If you're looking for a way to have more say in the Windows 10 Update process on  your Windows 10 Home, you can easily enable "Metered connection" even if you're connection is not metered, as long as you're connected via a Wi-Fi connection (this will not work on Ethernet connections even if they are data capped).
Search in the start menu for "Change Wi-Fi settings"
Click Advanced Options.
Enable the toggle under "Metered connection."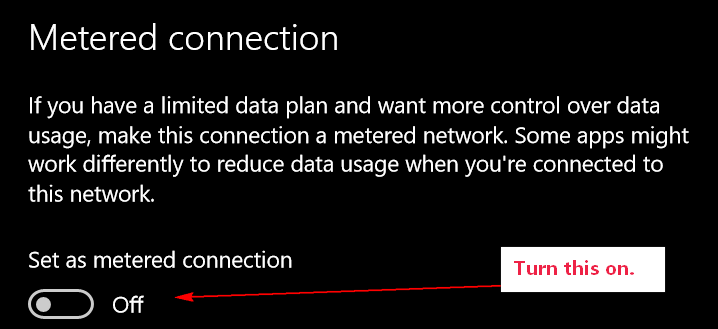 Remember, this will not turn off Updates. You'll still get updates, but this will delay some of them and give more control over Windows 10 Updates if you are using Windows 10 Home Edition. If you're using Windows 10 Pro or other editions you have other ways of controlling updates including Group Policy Editor and postponing updates in Windows 10 settings.
And should you ever decide to you want to go back, just turn Metered Connection off.