We are still getting a lot of email from Internet Explorer users telling us that this or that link isn't working on our site. So we go and check and the links are working. Tabbed browsing is great, but it can be confusing if you're not paying attention to the tabs.
If you use Internet Explorer 7, 8 or 9, with tabbed browsing enabled, you might not be aware that by default, when a new tab is created, IE does not switch to the new tab. If you click a link that opens in new window – as many do – you may think the link is not working. It probably is working, but it probably spawned a new tab in Internet Explorer. The trouble is, Internet Explorer does not switch to the newly created tab by default. This may cause you to think a perfectly good link is not opening; you might incorrectly assume that the link is broken.
This is a good tip for ALL Internet Explorer 7 and Internet Explorer 8 users – because it will save you a lot of annoyances – and a lot of frustration.
Start off by opening Internet Explorer and clicking "Tools", "Internet Options". In the General Tab (the default) go into the Tab section and click settings (see fig. 1 below):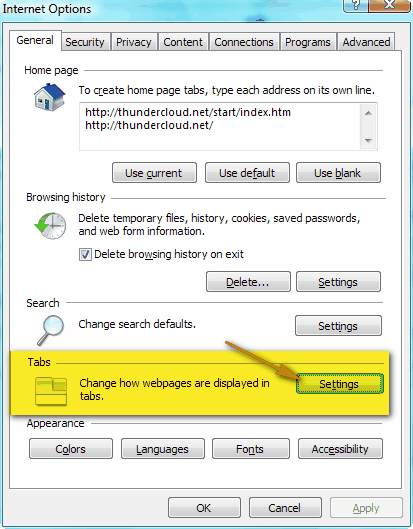 fig.1

Make sure you check the box that says "Always switch to new tabs when they are created." (See fig. 2 below.)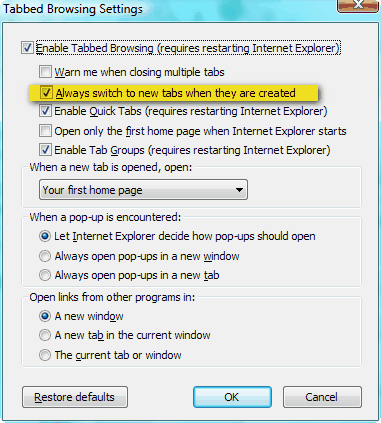 Fig.2
Click "OK" to save your changes, then click "Apply" "OK" in the main dialog, if prompted. This will solve the problem some of you are having when you click a link and it appears nothing happens.