Edit, View, and Modify PDF Files with PDF Eraser

There are a lot of free PDF viewers out there, but not many allow you to edit PDF files, change text, erase text, cut pages, add images, remove images, etc.
We found PDF Eraser after we had selected our Freeware Pick this week, otherwise it would have been our Freeware Pick. So you can look at it this way: If you don't like our Freeware Pick this week (and we think you'll really like it), you might like PDF Eraser.
We tested it pretty well. We were able to erase text, add images, and generally edit PDF documents very easily. Is it a full-blown PDF editor? Nope. But then again it's free and allows you to alter PDF files in ways you can't do with most free PDF viewers.
Well, here will show you. This is a screen shot of TC editing a PDF document with PDF Eraser on Windows 7:


Above — We took a PDF file and added text and an image, as well as erased and added text to the PDF document.

Pretty cool, eh?
Now here's TC totally  being goofy with a PDF document, erasing stuff, sticking in cucumbers where they don't belong. (Did you know that EB puts cucumber slices on her baggy, bulging eyes at night? She does. It doesn't do anything but make her smell like a pickle.) You can see the PDF Cutter is open, and unlike a Coast Guard cutter this doesn't float, but it does crop and cut PDF files to your like.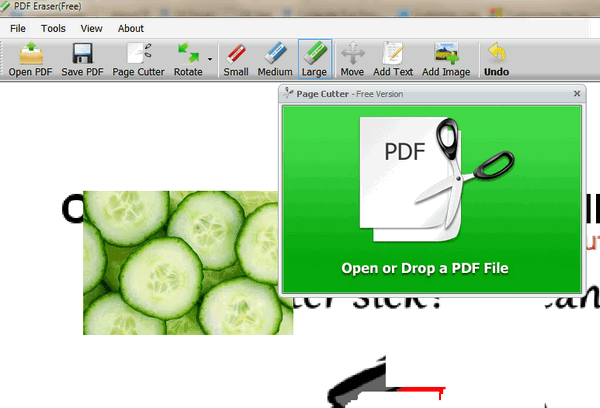 Above: TC takes EB's cucumber slices and messes around screwing up a PDF document on purpose. Notice the PDF Cutter thingie.
Here's what the folks at PDF Eraser have to say (and there are some good tutorials on the PDF Eraser Web site, so be sure you take a look):
PDF Eraser is a Windows application that deletes and erases text, images, logos and all unnecessary objects from PDF files. Users can use the program to remove some original content from a PDF file, and then add their text and images. Besides that, PDF Eraser has a built-in PDF Page Cutter, which allows users to delete unnecessary PDF pages. Considering lots of scanned PDF documents, PDF Eraser also added the PDF Rotating function rotates PDF pages properly with 2 clicks.
PDF Eraser works with Windows XP, Windows Vista, Windows 7, Windows 8x, and Windows 10. It works on both 32-bit and 64-bit  systems.
We tested this program on June 16, 2015 and found no malware or additional software bundled with the installer. We downloaded it from the author's site. If you download it from somewhere else you should be careful. C|Net, Softonics, SourceForge, FileHippo, and other download sites are starting to bundle malware, PUPs, adware and other junk with their downloads. So if you want PDF Eraser and you don't want malware or bundles of junkware – download from the author's site.
To learn more about, download PDF Eraser, or view the excellent tutorials go to http://www.pdferaser.net/ .