Load Fonts In Memory to Try Them Out
Back in the days when computer RAM was measured in kilobytes and megabytes, having tons of fonts on your computer had a very negative affect on performance. Now that RAM is measured in gigabytes, you'd have to have an extremely huge number of fonts installed before it had a noticeable affect on your computer's performance.  So, if you're worried about have so many fonts that it would affect your computer, don't worry too much –  it's not a very common problem anymore.
However, that being said – what if you just want to try a font or several fonts, but don't want to install them? Well, there's a way you can "load" fonts into memory so that they show up in your programs' "fonts" menu without the font or fonts actually being installed.
I just tested this to make sure it still works (the program we used to load fonts into memory is almost 16 years old). It's called FontXplorer and it is made by Moon Software. I downloaded it and installed it on my Windows 10 PC (yes, it works on Windows 7 and Windows 8.1 too) and it worked great. While I'm sure there are dozens of other programs that allow you to load fonts into memory so they can be used by your programs without installing them, FontXplorer is free, very easy to use and works GREAT!
Try this. Download FontXplorer from here. (it's 100% clean freeware – and we tested it again on 25 Jan 2017) . Install it and then run the program. When it opens, click on Tools—>Load Fonts (by Folder).
When you click "Load Fonts (by Folder)", you'll be able to browse to the folder that contains the fonts you want to try, but not necessarily install.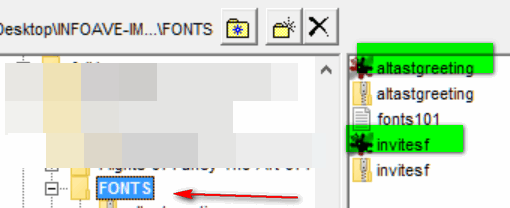 To test this, I unzipped a couple of fonts that I didn't have on my computer to a folder I creatively named "Fonts" 🙂 in my InfoAve directory. I loaded the two fonts into memory and I could see "altastgreeting" and "invitesf" on the fonts menu in MS Word and PaintShop Pro. The fonts will continue to show on any fonts menus until the fonts are unloaded. Note that you can unload the fonts with FontXplorer or by rebooting your computer.
If you shut down or reboot your computer, you'll have to reload the fonts into memory again, or if you like them, you can go ahead and install them. 
Hey, it's kind of like taking your fonts for a test drive!