Managing Bookmarks In Firefox
Managing Firefox bookmarks is more like managing Favorites in Internet Explorer, than managing bookmarks in Chrome. Speaking of which, you can learn more about managing Favorites in Internet Explorer and Edge here. If you're a Chrome user, you can read about managing bookmarks in Chrome here.
As with Internet Explorer, the key to managing bookmarks (and other things) in Firefox is to enable the menu bar (the bar across the top that says "File" "Edit" "View" "Tools" etc.) While you're at it, to make managing bookmarks easier in Firefox also enable the Bookmarks Toolbar.
Open Firefox and look at the image below. Right click anywhere in the "gray" area and put check mark next to Menu Bar and Bookmarks Toolbar.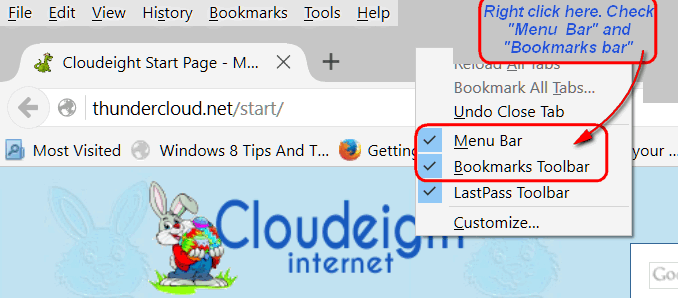 You can also open your bookmarks and search in Firefox by pressing CTRL+B. You can also open bookmarks by pressing ALT + B.  See below – opening "Show All Bookmarks" by pressing the ALT+B keys with Firefox open. Or with the menu bar enabled click Bookmarks on the Menu bar.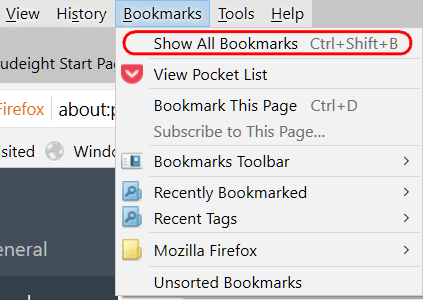 To import bookmarks from another browser (Chrome/IE) or an HTML file, click "Show All Bookmarks" and then click "Import and Backup" (see below).
You an also backup your Firefox bookmarks by clicking on Import and Backup and choosing "Export to HTML".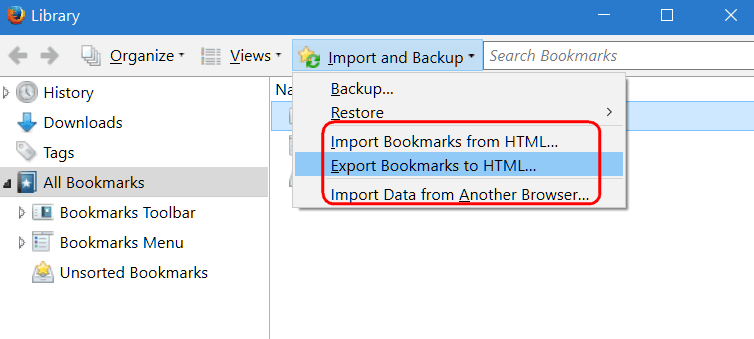 If you want to see the contents of your Bookmarks Toolbar by clicking on Bookmarks on the menu bar and then clicking Bookmarks Toolbar. Or press the Alt key + B then click Bookmarks Toolbar.

We hope this helps you manage your bookmarks in Firefox.
If you use Internet Explorer or Edge, visit this page. If you use Chrome, click here.