Managing File History in Windows 10
File History is great feature of Windows 10, but it can be even better with some tweaking by you. If you have not turned on File History yet or don't know what it is, you can learn more about File History here.
By default, Windows 10 File History saves copies of files and folders until space on the drive gets low. And by default it backs up new or changed versions of files/folders every hour.
We've left our "Save copies of files" at the default settings -"Every hour". Using the drop down menu, you can choose anything from every 10 minutes to every day. Every hour is good for us. When writing a newsletter or doing graphics work, saving files every hour gives us a fallback just in case, if a program freezes or we accidentally reboot our computers, the work is saved in File History every hour. So we might not get all our work back, but the most we'll lose is an hour's work, instead of the entire day's work.
We don't work fast enough to have to set it to every ten minutes, do we EB?
But let's go beyond the stuff we already covered in this article and show you some advanced settings in File History, specifically, how to clean up File History. You can clean up all the file history but the latest ones, or choose to clean up all files older than 1 months, 2 months, 3 months, and all the way up to 2 years.
So how do you get to these settings? In Windows 10, right-click on the Start Button can choose "Control Panel". Make sure you're in icon view (top right) and click on File History. In the left pane you'll see "Advanced settings". Click on "Advanced settings".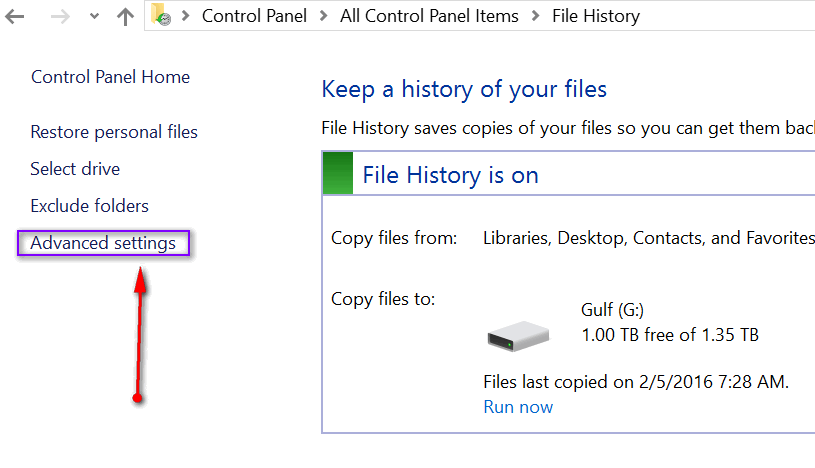 Once you click on Advanced settings you'll see the dialog below. Click on "Clean up versions" and you'll see the "Delete older versions of files and folders" dialog (below).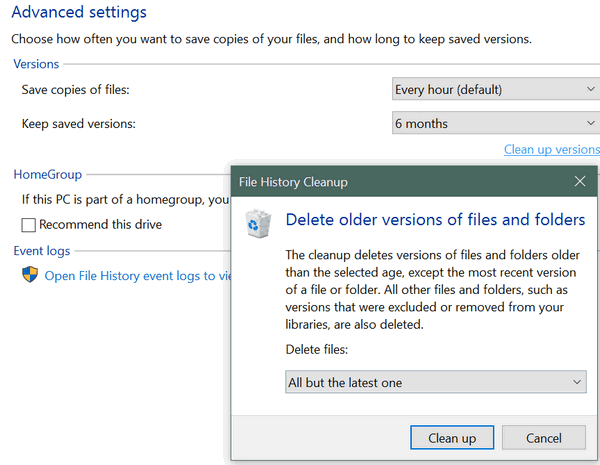 You can clean up your File History files and folder backups by selecting one of the options of under delete files (see below). You can choose to delete files "Older than 1 month" or all the way up to 2 years. You can also choose to save only the very newest copy of each file/folder.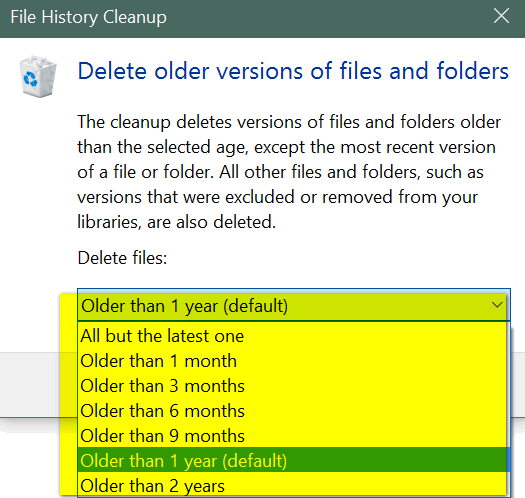 And that's how you can keep your File History clean. You'll also note you can change the File History drive and exclude folders from your File History backup. Now you can take control of Windows 10 File History!
---
Cloudeight Boosters Winter Special – Extended
We ran out of FastStone licenses last weekend. We just got another batch in. When they are gone they're gone…so don't delay.
We're running this promo through Sunday February 7, 2016 – or while supplies last.
If you make a gift of $10 or more, not only will you be invited to join our Cloudeight Boosters and grab some or all of the special freebies we offer our boosters, we'll give you a lifetime license for FastStone Capture Pro. Faststone Capture Pro is the same screen shot tool we have used for years. The retail price of FastStone is $19.95 – and you can get it free with donation of $10 or more.
And don't forget the growing list of other free stuff we offer our Cloudeight Boosters, including our newest e-books, FolderMagic, special discounts on some our products and services – and a lot more.
Our Cloudeight Boosters Winter Fundraising Drive is extended through Sunday, February 7, 2016 (or while supplies last). We will give anyone who donates $10 or more between now through February 7, 2016 a free lifetime license for FastStone Capture.
If you're already a booster, login to your account, give a gift of $10 or more and you'll get a free lifetime license to FastStone Capture Pro. It's easy. Just login to your boosters account and click the link on the Boosters' home page.
If can't afford to contribute, recommend our free InfoAve Premium newsletter to your friends . Or use our Start page as your start page. Anything you can do to help is very much appreciated.
Visit this page and donate $10 or more and we'll send you a lifetime license for FastStone Capture Pro
Thank you all so much for your continued support.