Most of you know MSCONFIG; it's Windows configuration utility and most of you have used it at one time or another to tame your Windows start ups. Well, MSCONFIG is still in Windows 8 and 8.1, but 8 and 8.1 allow you to control your start ups from the Task Manager.
But in Vista, Windows 7, Windows 8 and Windows 8.1 we're going to show you a way to use MSCONFIG as sort of a Swiss Army knife of Windows tools.
As you can see from the images below (and these "tools" are the same in Vista, Windows 7, Windows 8, and Windows 8.1) just about anything you want to do, you can do from MSCONFIG. Just click the Tools tab at the top and you'll see a long, scrollable, list of programs and utilities you can launch right from MSCONFIG.
Launch things like Action Center, System Information, Uninstall a program, Task Manager, and so on. And it's been under our noses all this time.  From About Windows to System Restore – you can access most of your Windows utilities and more by opening MSCONFIG.
You can open MSCONFIG on any Windows computer by pressing the Windows Key and while holding it down, pressing the R key.  In the Run dialog type MSCONFIG and press Enter.
This is a tip you'll want to use over and over so you don't forget it. Why? Because it's a time saver. And we all should be looking for quick and easy way to do things.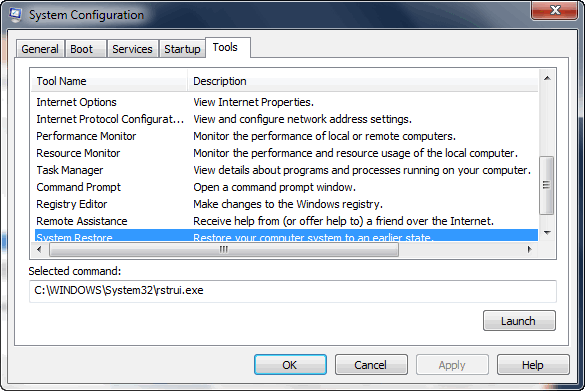 This article applies to Windows Vista, Windows 7, Windows 8, Windows 8.1