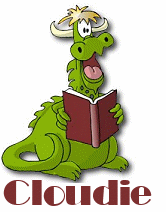 Dear Friends,
We have been on the Web since 1998. Our mascot "Cloudie" was born 16 years ago – on February 25, 2002. And we've been around even longer than Cloudie. This is our 19th year on the Web. We've seen good times and bad times and in-between times – we can tell you in nearly two decades on the ever-evolving Web we've pretty much seen it all
Our mascot, Cloudie
He's more than just a cute, green dragon. He represents the best of us. He represents our desire to help you and keep you informed without alarming you– to make learning about computers and the Internet fun, even if some of the things we have to discuss may not be much fun. But over the past 19 years we've never strayed from our mission of treating people well, making learning fun, and helping people whenever we can.
Our mission has always been to earn and keep your trust
We have been careful, over our 19 years on the Web, to recommend to you products that we would actually use ourselves. We have and never will fall into the trap , that so many others have, of recommending things just to make a buck – so we've had to struggle at times financially. But we know your trust is something money can't buy. And we try to earn yours every day.
You asked us to extend our Pay What You Like Sale through Monday 3/6/2017 so we're doing that for you
Because many of you have written and asked us to keep the sale going for a little be long, we have decided we will keep it going through Monday, March 6, 2017. We hope you'll take advantage of this sale before it ends – and if you don't need any of our products or services right now, you'll consider making a small donation. You can do that right from our Pay What You Like sale page.
---

Pay What You Like Sale

For the first time ever, we're giving you a chance to choose the price you pay for the following Cloudeight products & services:
Cloudeight Direct Computer Repair – Single Key
Cloudeight Direct Computer Care Season Ticket – Computer Care for one full year.
Thunderbird Email Installation and Setup
Emsisoft Anti-Malware installation, setup and one-year Emsisoft license
Don't need anything? Please help us with a donation.
Our Pay What Your Like Sale Is Extended Through Monday March 6, 2016

Get more details and pay what you like … here!
---
Thank you all for your support and your help. We appreciate you very much.
Best wishes,
EB, TC, and Cloudie
Cloudeight Internet