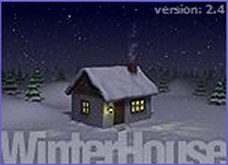 Cloudeight WinterHouse Animated Screensaver with Falling Snow
Lots of great features!
User configurable Scene and Music Controls
Choose falling snow or a clear winter night complete with shooting stars
Turn door or cabin lights on and watch them gently flicker or turn them off
Smoke swirls from chimney if you choose
Configure star patterns randomly or based on time of year
Use in silent mode or choose from three beautiful Christmas songs
Display Time or Date/Time on the active screensaver
Great for Christmastime and and all winter long–price!
Now available on USB Flash Drive too – Great for gift giving and almost all the space on the flash drive is free to use – to boost your computer's performance – or to save your important files!
See our WinterHouse home page and our WinterHouse Help Page For details and ordering information.