Before we go any further with this tip, you should know that screen dimming during UAC prompts is part of Windows Secure Desktop. This prevents malicious applications from mimicking a Windows UAC prompt and you from mistakenly giving control of your computer to a malicious application. If your system is well protected, you install all Windows patches and updates promptly and you use good, safe computing practices, the chances of something like that happening are remote. But we have to warn you anyway.

Windows 7 Instructions
If your screen dims/goes dark when the User Account Control Window opens, there is sometimes a several second delay depending on your system settings and resources. It can be mistaken for a frozen computer or other problem. To turn off the screen dimming, but keep UAC protection, Windows 7 makes this very easy.
Click UAC in Search Box at Start menu
Open the User Account Control Settings panel
Move slider down to "Don't dim the desktop"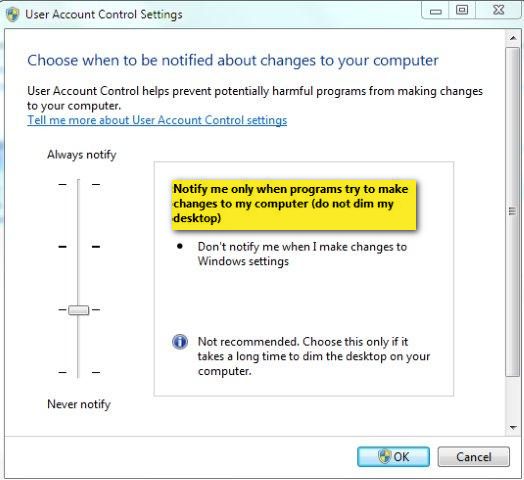 Windows Vista Home Premium
Before proceeding with this tip, create a system restore point. This tip involved editing the registry and by now, you all know the scoop on that. You can do serious damage to your computer if you edit the registry incorrectly. So make a restore point, just in case. If worst comes to worst, you can go back to the point right before you did the registry edit – no harm done.
Type Regedit in the search form at the bottom of the start menu. When the registry editor opens, navigate to the following key:
HKEY_LOCAL_MACHINE\SOFTWARE\Microsoft\Windows\CurrentVersion\Policies\System
Right-click in the right pane and create a new 32-bit DWORD value called PromptOnSecureDesktop . Now set the value to 0.
You'll need to restart your computer for the change to take effect.
If you're using Windows Vista Professional or Ultimate, you can use the Group Policy Editor to make this change.