We haven't done a review of Reimage in a long time so we thought we'd do a little refresh – a mini-review today.
Reimage has been totally redone so that it now works with Windows XP, Windows Vista (32/64bit) and Windows 7 (32/64bit). Some of you are not clear on what Reimage is or what it does, so we're going to tell you as simply as possible what it is, what it does, and why and when you should use it.
Reimage is a system repair tool – it's a one-of-a-kind tool that can repair damaged Windows installations for a fraction of the cost of taking your computer to a repair shop. It's a tool that scans your system for malicious files, missing or corrupted Windows system files, damaged or incorrect registry files and more. It can fix problems with your Windows system that other programs cannot. Reimage keeps a database of over one million Windows files so it can replace missing or damaged Windows file for all versions of XP, Vista and Windows 7. It's not a tool that you'd use every day – it's serious software for serious computer problems – the kind of problems that would normally result in your contacting a repair service or computer repair technician.
The new Reimage is lighter, faster and better than previous versions of Reimage – we've tested it and we totally endorse and recommend it.
Let's get down to business. You want to know what Reimage will fix. And you should know up front, what it won't fix. The following is from the Reimage Web site:
"What Does Reimage Fix?
First, the Reimage preliminary scan will detect all errors on your PC's Operating System. The repair process removes and replaces damaged files found during the scan.
During repair, Reimage not only removes damage, but also reverses the damage done to your Windows OS by replacing corrupted and deleted files with fresh Windows files and components from our continuously updated online database. Your PC's performance, stability and security will be restored and improved.
Reimage scans and repairs* the following PC issues:
Faulty Operating System components
System crashes & freezes
Blue screens (software related)
Pop-Up Error Messages
Registry inconsistencies
DLL system files
Malicious malware/spyware
Damage caused by malicious programs
Problems with Windows Media Player/Windows Media Center
Problems with Windows Live Messenger (in most cases)
What Does Reimage Not Fix?
Reimage is a constantly updated program, which our dedicated R&D team does the best to improve. However, we currently do not fix any third-party program* installed by the user.
Examples include:
Microsoft Windows Office
Skype
Adobe Software
ICQ
Winamp
Mozilla Firefox
iTunes
Anti-Virus Programs
Non-MS Defrag Programs
Non-MS Games
Windows Genuine Advantage Validation"
In addition, Reimage cannot fix physical problems like bad sound cards, worn-out or physically damaged hard drives or any hardware issues. Obviously no software program can fix damaged or worn out hardware. Only replacing or physically repairing the hardware will fix hardware problems.
Reimage in action. The following screen shots were taken on one of our Windows 7 64-bit computers: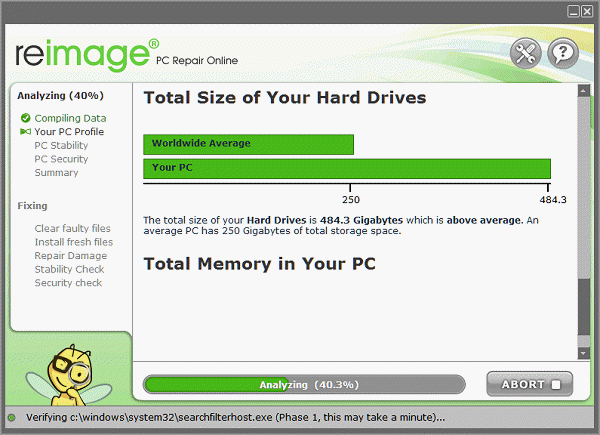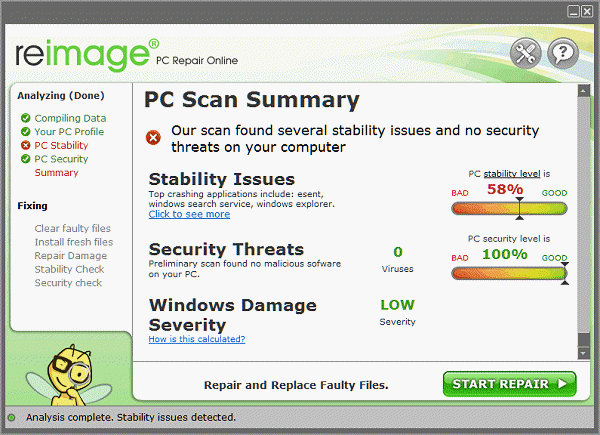 As you can see from the above screen shots, Reimage scans all components of your computer and gives you an accurate report as to the condition of your computer. You don't need to buy Reimage to run this scan. It doesn't find problems that are not there just to get you to buy it. The report it gave us for this particular computer were accurate. We've had some stability issues with this computer, but not severe enough that we needed to repair it – at this point.
If you're having serious computer problems and you're considering taking your computer in for repair, you should consider trying Reimage first. You have nothing to lose and you could save a lot of money. You'll also not lose your data. Many computer repair services consider formatting your hard drive and reinstalling Windows the only sure way to fix your computer. But doing that will also remove all your programs, files, and all your settings. Yes. Reinstalling Windows after formatting a hard drive will certainly fix Windows problems – but it should be a last resort – not the first choice.
You have nothing to lose by trying Reimage before taking your computer in for repair. They offer a full money-back guarantee if Reimage can't repair your computer problems. The new Reimage is easy to use and can fix broken Windows installations – in most cases in less than an hour.
We endorse and recommend Reimage. We hope if you're having serious computer problems you'll give Reimage a try. We think you'll be glad you did. Reimage support staff can assist you with any problems you may have. And many readers have told us, they'll go out of their way to help you.