Repair or Reset Microsoft Edge
This tipapplies only to Windows 10 Version 1709 (Fall Creators Update), Windows 10 Version 1803 (April 2018 Update). It won't work on any version of Windows 10 prior to 1709. If you're not sure what version of Windows 10 you're using see this page.
In Windows 10 April 2018 Update (Version 1803) it appears that resetting Microsoft Edge is one of the things suggested to fix minor issues with the April 2018 Update.
Here's how to reset (or repair) Microsoft Edge:
Step #1. Press Windows Key + X to open the right-click Start menu.
Step #2. Click on Settings
Step #3. Click on Apps
Step #4. In Apps, click on Apps & Features on the left side then scroll down on the right-side and find Microsoft Edge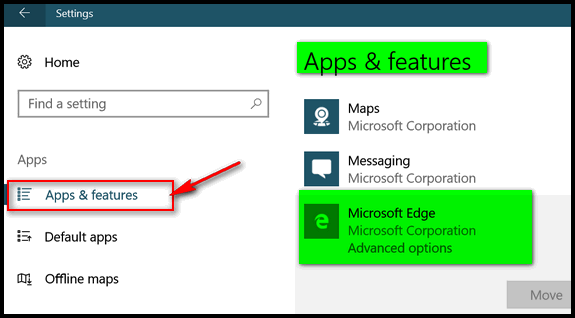 Step #4. When you find Microsoft Edge click on Advanced options:

Step #5. Try using the Repair option first. If that does not fix whatever problems you're having with Edge, then use the Reset option. Resetting Edge will have the best chance to fix it, but you'll have to reinstall your extensions – your Favorites (bookmarks) won't be affected.