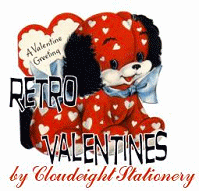 Our newest Cloudeight Valentine's Day collection, "Retro Valentine's", is a collection filled with nostalgic stationery from days gone by. and colorful This new Cloudeight Stationery collection features many designs, so you're sure to find exactly the right stationery for each of those special emails you'll be sending to your sweethearts :-). Many of these stationery are made so you can use them every day and not just during the Valentine's season. Love knows no season!
Because this collection has been created in several different versions, you'll find exactly the right collection for your favorite email program, whether it be Windows Live Mail, Windows Mail, Outlook Express, or Thunderbird.
Our "Retro Valentine's" stationery collection features these eight great stationery designs:
Be Mine
Love Always
Love You Beary Much
Puppy Love
Suit Me to a Tea
Take My Heart
To My Sweetheart
You Have Mail
You can preview and download our brand new Retro Valentine's collection from here!