How to Install Windows 10 as a Virtual Machine (Part I)
Windows 7, Windows 8.x
We're going to show you, step by step, the safest way to try Windows 10. Using a virtual machine, which we'll show you how to create, you can try Windows 10 with affecting your current operating system, your programs, your personal files, or anything else.
Let's get started!
We finally got a chance to play around with Windows 10 (Technical Preview) and we're impressed. EB got along well with Windows 8x but I couldn't stand it. In fact, I continued to use Windows 7 almost all the time although I have a Windows 8 computer. This is only the 2nd time since I first got a computer (Windows 95) that I didn't move to the newest version of Widnows. The other time was when Microsoft released Windows ME, which was another piece of work.
While it's still early in the game, Windows 10 looks like a winner to me. After playing with it for just a few days, I have already made the decision that if it were released for sale today, I'd buy it and upgrade my Windows 7 and Windows 8x computers to Windows 10. While it retains some of the best things about Windows 8x (and there were some good things like System Refresh) it introduces some old new things – like a great start menu that is very customizable – and completely new features like multiple desktops at your fingertips. While it's too early to make a final call, I like Windows 10 so far – I tells ya!
And we know that many of you are anxious to try Windows 10 too. But we want to give you a word of caution — do not install the Windows Technical Preview over your current operating system. What's going to happen is you'll eventually lose everything and won't be able to move from the tech preview to the final released version of Windows 10 – you'll have to install it from scratch. This means you'll lose everything you haven't backed up. We're basing this on other preview releases of Windows but if Microsoft sticks with their past protocols, you won't be able to "upgrade" a preview version to a full released version. Maybe this time it will be different but don't count on it and don't install Windows 10 preview releases over your current operating system.
But if you have a computer with 4GB of RAM or more and you have a decent sized hard drive with at least 25 GB of space you can play with, we're going to show you how you can try Windows 10 without it affecting your current version of Windows at all. We're going to show you how to set up Windows 10 Technical Preview as a virtual machine using a free program and the Windows 10 tech preview available right now from Microsoft.
Let's get started. The first thing you're going to do is download the tech preview in ISO format (you need to be careful that you don't download the installer). You're going to need to know if your computer supports 64bit – or if it has 32bit architecture. So right now, press the Windows Key plus the Pause/Break key to bring up your computer's properties. Near the bottom of the system properties dialog you'll see "System type" – it will either be 32bit or 64bit.
Next you're going to need to download the Windows 10 Technical Preview from Microsoft. But not so fast. First MS is going to want to join the Windows Insider Program and to do this you're going to need an outlook.com, Hotmail.com, MSN.com or Live.com email account. Don't worry, if you don't have one, you'll be able to create one from the Technical Preview page. So let's go to the technical preview page and press the Get Started button.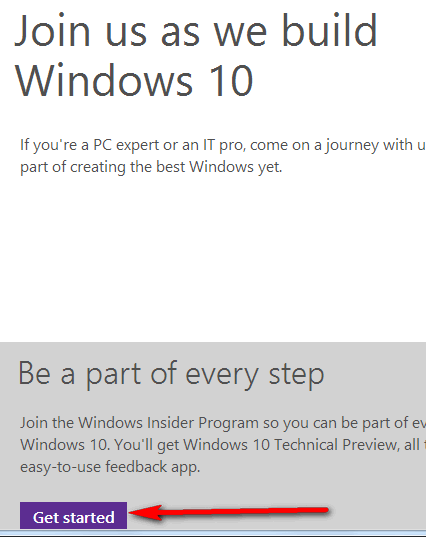 Next you'll need to join the Windows Insider program: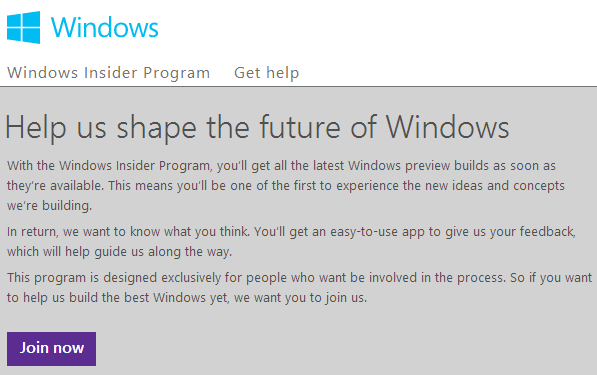 Now you're going to need to sign-in with your Microsoft account – which is any email address ending in @outlook.com, @hotmail.com, @msn.com or @live.com . If you don't have one of those get one at http://outlook.com/ or click "what's this" on the sign up form.
Once you've signed up and signed in the next steps are critical, so be sure you understand the difference between clicking the "Upgrade now" button and downloading the Windows 10 ISO file. If you don't, make sure you read this next part carefully.
After you've signed up and signed in, you'll get the "Congrats, you're an Insider" notice. Click on "install Technical Preview' (highlighted above).
Caution: Do not click the "Start upgrade: now button. This is very important, because if  you do and you run it you're going to upgrading your current version of Windows to Windows 10 Technical Preview and when the Technical Preview expires you won't be able to upgrade it to the full version and you won't be able to go back to your older version of Windows – and you will lose everything you don't have backed up. So please, DO NOT CLICK the "Start upgrade now" button (see picture above). You need to click "download the ISO files" (highlighted in yellow above). When you click "download the ISO files" you will come to a page with instructions and links to the ISO files.
Under the section called Download Links, you'll find the links to all versions of the Windows ISO files (see picture below):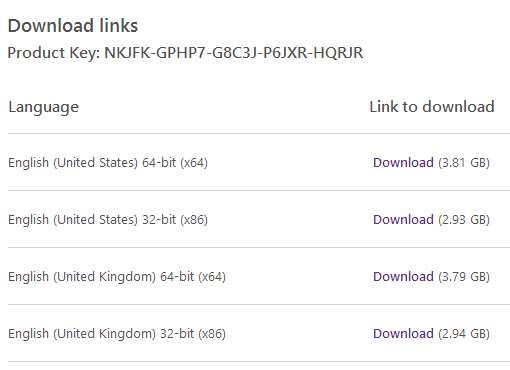 If you have a 64-bit system choose the 64-bit download in your favorite version of English.  If you have a 32-bt version…DUH!
Now download the ISO file – it will take a while, it's about 4GB.
See part two of How to Run Windows 10 Technical Preview as a Virtual Machine: Building Your Virtual Machine