SaferWeb: Not So Safe
In the past two weeks we've over a dozen people ask us about SaferWeb. Since we have never had an inquiry about SafeWeb before, we are thinking perhaps SafeWeb is being bundled with other programs or buying a large number of avertisements. So we decided to look into "SafeWeb".
SaferWeb is a browser add-on that connects you via a VPN to the Web, thus (theoretically) by passing your ISP. Supposedly, SaferWeb protects you from being tracked by anyone since the internet connection grid goes something like this:
You —> Your ISP—>SaferWeb's VPN servers –> The internet
Theoretically your ISP can't track you because they only see that you're connection to a VPN service and anything you do on the Internet cannot be tracked.
The truth:
Legitimate VPNs do enhance your online privacy and security by routing your connection through a VPN server. The best VPN services don't keep server logs so there is no tracking of your internet activity. However most VPN services do keep logs, and more and more are being pressured into logging user activity because of the rising threat of terrorism. However, still some VPN services still don't log user activity – these VPN services have servers in countries that do not cooperate with the "West" in anti-terrorism or anything else. You should be leery about using one of these.
VPNs can be helpful in increasing your online security and limiting tracking. They are also useful if you live in a country that blocks certain Web sites, or if, for example, you live in Canada and you cannot access a service that is for the USA only. A good VPN service would allow you to select an American VPN server which would automatically assign an IP address that would show your geographical location as somewhere in the USA, while you're actually in Canada.
There are many legitimate VPN services, such as CyberGhost, available. SaferWeb is not one of them.
SaferWeb is classified as a browser hijacker, PUP, malware or adware. "Should I Remove It" says that 84% of those who installed SaferWeb recommend against installing it. Most within a week:
"…A majority of users end up uninstalling this less than a week of it being installed. The setup package generally installs about 8 files and is usually about 2.28 MB (2,390,572 bytes).
Malware detected in the program.
Integrates into the web browser

Typically distributed through a pay-per-install bundle

Injects advertisements unassociated with the underlying web page

Most users and experts agree, you should remove it!…"
Read more at: http://www.shouldiremoveit.com/saferweb-102565-program.aspx
We checked out SaferWeb's reputation and found these comments:
After signing up for this, it made my computer worse. I tried emailing them to stop further automatic withdrawals, as I didn't like their product and didn't intend to use it. They charged me $9.95 plus $5.99 for a book, which they never sent. Then on July 12, 2016, they took another $14.97 out of my bank account after my having emailed them several times not to charge me anymore! I want my money returned promptly!!! (See https://reportscam.com/saferwebcom/#9726)

After signing up for a promotional cost of 9.95, a charge of 119.64 also showed up on my billing invoice. Servers could not connect, upon further investigating…NONE of their servers were available to Denver, Colorado, even the server the Help Center recommended to use. If you think your getting security for a trial of 10 bucks…you're not. You're getting taken for a ride. (See https://reportscam.com/saferwebcom/#9726 )

BE WARNED! Claimed to sell me software for safe internet for $4.99 and charged me $119.64 unauthorized and the software does not work.. also they do not answer their phone number provided and have not returned the support ticket email response. Stay away from these scammers. BE WARNED!! (See https://reportscam.com/saferwebcom/#9726)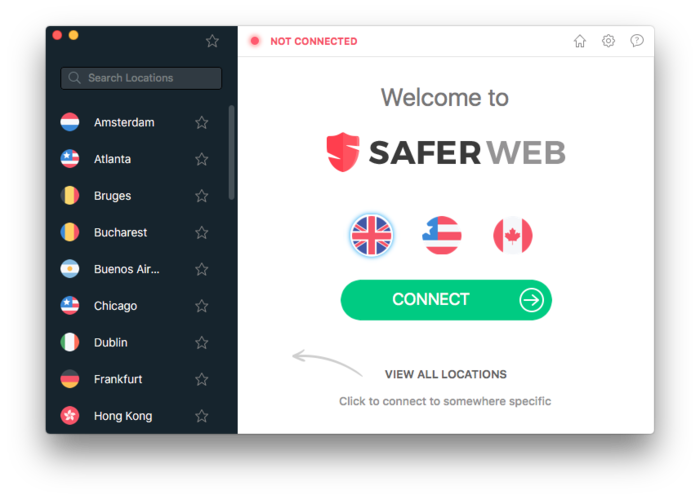 From our research, some of the best malware scanners detect SafeWeb as malware/adware. While there are some favorable reviews, we look at them askance, since the reviewers may be getting paid by SaferWeb.
Our advice: Avoid SafeWeb. Many reports indicate it is malware, adware and/or a hijacker; others report it as a scam.
If you're interested in a free or commercial VPN, there are many to choose from. One good one we've used is CyberGhost. If you want to read more about VPNs, visit this page. All being said, most users don't need a VPN.
The only way to be 100% safe and secure online is not to be online – but then you have Social Security numbers, driver's license info, credit card numbers, etc. floating around the Web too. So you're going to have to minimize your exposure there too.
Best advice: Use your common sense and be wary.