Blink Health
It's no secret that old EB and TC are aging. We're coming into our golden years – some would say TC is approaching his decrepit years – and as we age, you know, most of us have things inside that are breaking down and not working like they used to – or as they're supposed to. Which means most of us older folk take prescription medications to help us live a better quality of life or to keep the chronic diseases older folks sometimes experience at bay.
And, as most of us who live in the USA know all too well, big pharma is ripping us off. The prescription drug industry in the good old USA takes advantage of our American health care system. And we know of some folks that have to decide which they need more: food or medicine. It shouldn't be that way, I tells ya! But that's how it is – or should I say – that's how it was. Until now, unless you paid for prescription drug insurance plan, you were at the mercy of the drug companies and their ridiculously high prices.
But now, thanks to EB's keen eye, if you're living in the USA and you take prescription drugs and don't have prescription drug insurance coverage – or you don't have very good coverage, you'll be glad to know that you're no longer at the mercy of those smirking pharmaceutical executives who think raising the prices of some drugs by 4000% percent is funny. We don't think it's funny, and neither does our site pick "Blink Health". If you take expensive prescription medications and you find yourself strapped for cash – or worse – trying to decide whether to buy food or the medicines you need, keep on reading.
The following if from the founders and developers of Blink Heath – and there's a lot more to read on their Web site too. EB has tried and tested this site and gives it an A+. We think you will too:
"What is Blink Health?
Blink is a free, easy way to save up to 85% on your prescription medications. We're the only company that offers you one, low price at virtually every U.S. pharmacy.
Who can use Blink Health?
Everyone can use Blink. Whether you have good insurance, bad insurance or no insurance at all, Blink is your alternative to rising copays and high cash prices.
How does Blink work?
Before you go to the pharmacy, prepay for your prescription medication through Blink. After you pay, present your Blink Voucher to the pharmacist along with your prescription.
What happens after I pay?
We provide you with a digital copy of your Blink Voucher. You can print it, email it or have an SMS sent to your phone. Purchases are always refundable.
Do I need a prescription to use Blink?
Yes. You will not be able to use your Blink Voucher at the pharmacy without a valid prescription from your physician.
How does this work with my insurance?
Blink is an alternative to your copay. If you have insurance, tell your pharmacist to process Blink instead.
Our Mission
Blink is the cure for a disease with immeasurable human cost.
That disease is the high cost of prescription drugs.
A cost that takes its toll on human lives in many ways, not just in money but in health itself.
Our mission is to cure this disease, and to make prescription medications available at lower prices to millions of people across America.
Blink Health is committed to ensuring that no one goes without the drugs they need to live a healthy, happy life.
Whether you have good insurance, bad insurance, or no insurance at all, Blink can save you money at over 60,000 pharmacies nationwide.
We're the first company to develop a proprietary technology to group millions of patients together, creating the strength to negotiate the lowest drug prices possible.
We're also the first company to allow patients to purchase their medications online and pick them up at their local pharmacy.
Blink Health believes that lower drug prices are healthier for everyone.
Lower drug prices can put an end to skipping doses or stopping medication altogether.
Lower drug prices put an end to sticker shock at the pharmacy counter.
Lower drug prices mean Americans can take the drugs they're prescribed without worrying about the cost…"
And Blink Health is accepted at all major chains and most independent pharmacies, including: Walmart, Walgreens, CVS, Target, Kroger, Safeway and many others.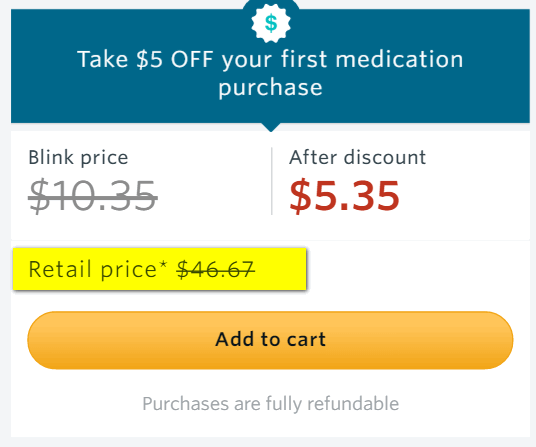 Read more about and/or try Blink Health here.
We bet you'll save a lot of money – if you're from the USA, of course. The rest of you in other countries don't have to worry about stuff like this 🙂