System Reset and Refresh get married in Windows 10
In Windows 8x a lot of changes were made and many were not well accepted. However, one generally well-liked feature of Windows 8x was improved in Windows 10.
In Windows 8x there was a System Refresh and a System Reset and the few people who knew about it were often confused what each did, Refresh, if you remember, reinstalled Windows while keeping your personal files and folders. All you had to do was reinstall your programs and you were ready to go. System Reset wiped out everything and reinstalled Windows – essentially you started from scratch.
In Windows 10 it's been simplified. Everything is under "Reset this PC" in the Recovery section of "Update & Security". Let's go there now:
Click Start —–> Settings —–> Update & Security and click on Recovery in the left pane (see the screenshot below):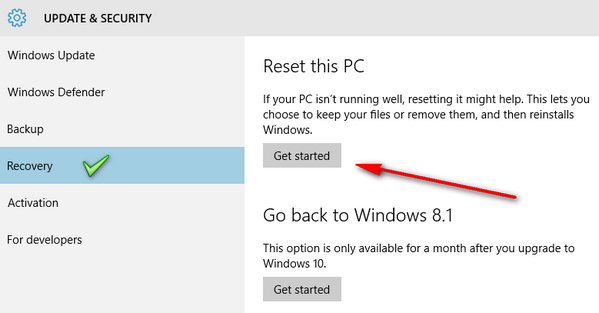 Click on " Get Stated " (above) and you'll see the options shown in the image below: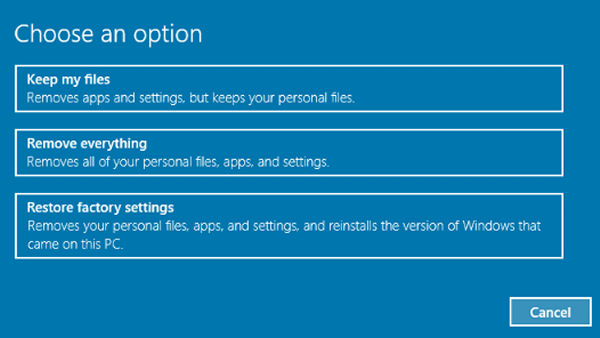 If you choose the first option "Keep my files" your personal files and folders will be saved and Windows reinstalled. When this is done, you'll have all your pictures, music, documents and videos. (NOTE: In screenshot above, "Restore factory settings is listed" it may or may not be listed on your computer. This was a brand new Windows 8.1 laptop that I bought and upgraded to Windows 10 the day I got it. I certainly wouldn't ever go back to the previous version of Windows (8.1) unless that was my only choice, Windows 8.x and I didn't get along. EB liked Windows 8.1 a lot more than I did, but then she had a touch screen. See what happens when you're the boss? You can under pay your help (that would be me) and put the money you save into touch screen computers, cruises, Alpine vacations, and 96″ LED TVs. Woe is me!
I digress. Let's click on "Keep my files. You'll see the warning shown below:

Not hard to understand, right? Now the full dialog is shown in the screen shot below: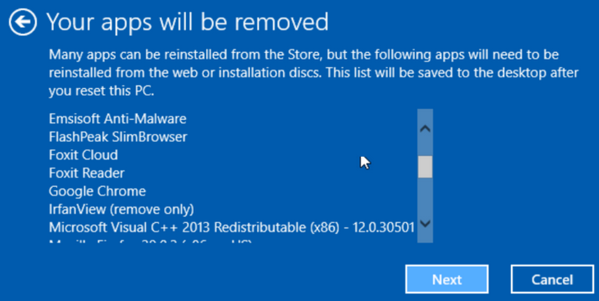 You can see all the programs you'll have to reinstall when Reset (Keep my files) has completed. Windows will leave a copy of this list on your desktop so it's there when you've booted back into Windows.
Reinstalling Windows while keeping your personal files and folder is a great feature to have. Most of us can easily reinstall programs, even though it may take some time. But all those precious pictures and documents are irreplaceable as are those home and family videos.
One more way to recover your PC when all other options fail is Advanced startup (see the lovely screen shot below). Advanced Start Up gives you troubleshooting options, and options to boot from a disc or USB drive. You can also change Windows startup settings (boot into Safe Mode, for example) or use your image backup to restore Windows. If you click the button labeled "Restart now" can you guess what's going to happen?

And if you just want to book into Advanced startup with all the advanced boot options, just hold down your Shift key while restarting your computer.