Taskbar Settings in Windows 10 Anniversary Edition
Microsoft loves to fiddle around with stuff and change things that have been in Windows for many years…such as Taskbar Properties. Wouldn't you know it – after 20 years, Microsoft has removed Taskbar Properties and replaced it with Settings.
No, not the settings you get when you click the settings icons in the Start menu or  Settings in the Action Center. Nope. You get Taskbar Settings which is really Taskbar Properties with a new look and new name.
Here's the old, familiar Taskbar Properties dialog you see on older versions of Windows (including Windows 10 editions before Redstone or the so-called Anniversary edition):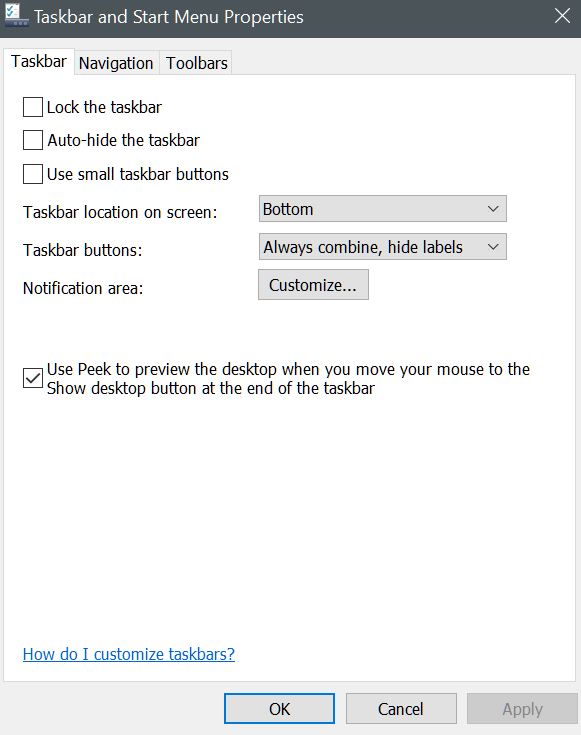 But in Windows 10 Anniversary Edition, when you right-click the taskbar, there is no "Properties". Instead you'll see "Settings" with the same gear icon used for System Settings.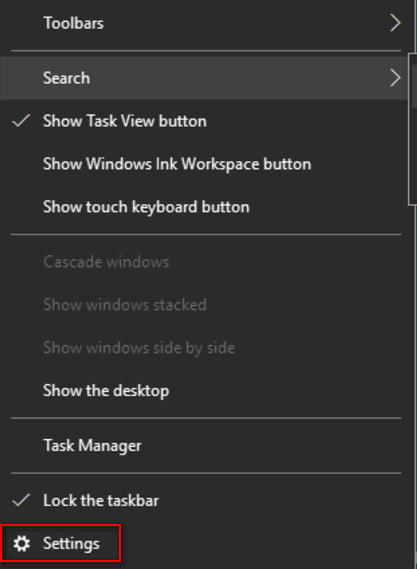 And when you click Settings, you don't see the Settings you're used to seeing when you click Settings (or the Settings icon) on your Start menu or "All Settings" in Action Center, nope… instead you'll see this: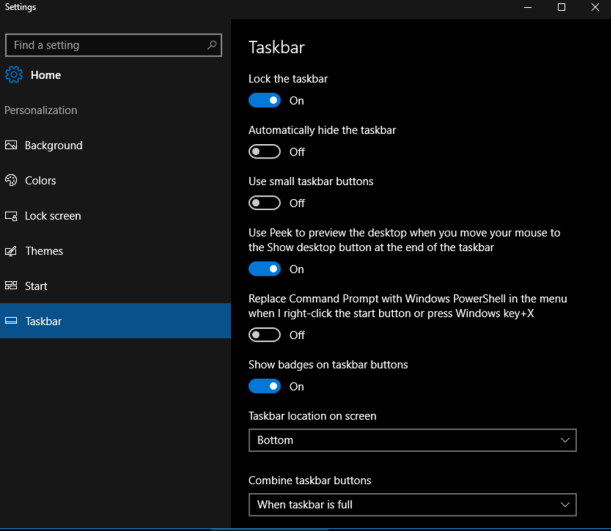 And if you look at the Taskbar settings vs. the old Taskbar Properties, you'll see they offer the same options – except the new "Taskbar Settings" has Powershell instead of command prompt… which is under the Navigation tab in the old Taskbar Properties dialog and the Taskbar settings has a new option to show badges on Taskbar icons.

Badges are notifications that show on Taskbar icons for Windows Apps for instance the Mail app. The badge on the Mail app shows how many unseen messages you have  And on the Weather App you'll see a notification on its taskbar icon if there's a weather alert in your area.  How useful badges are, you can decide.
And for those of you who are wondering if you can get to System Settings from Taskbar Settings, yes you can. You can see "Settings" at the top left corner of the Taskbar Settings dialog: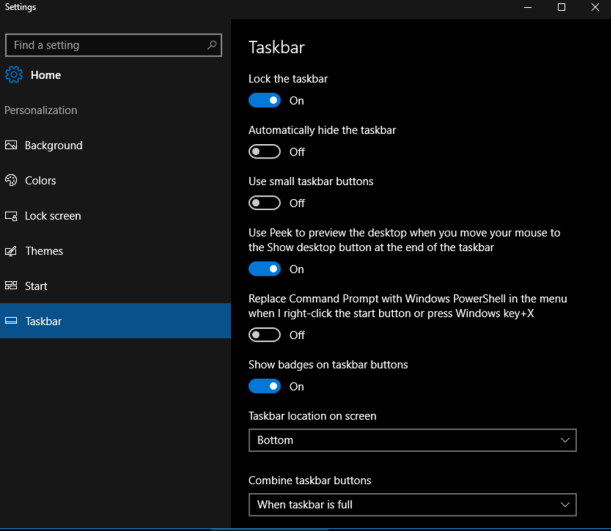 When you click it, you'll go back to the Settings all of us Windows 10 users know and love :-).
And for those of you with the Windows 10 Anniversary edition or newer, you can enable the "dark theme" (shown in the screen shots above). Just go to Start > Settings > Personalization > Colors. In the main part of the Settings screen, scroll down to the bottom. Listed under "Choose your app mode" select the tick the radio button next to "Dark".
If you're not using an earlier version of Windows you can enable the Dark theme by using a registry hack. However, we recommend this only if you're familiar with editing the registry – and we URGE you to create a RESTORE POINT before you edit the registry.
Press Win+R to open a run box, type "regedit", and press enter.
Browse to: HKEY_LOCAL_MACHINE > SOFTWARE > Microsoft > Windows > CurrentVersion > Themes > Personalize
If there's no Personalize folder, right-click Themes and select New > Key. Name it Personalize.
Right-click Personalize and select New > DWORD (32-bit) Value. Name it AppsUseLightTheme and set its value to 0.
Perform steps 3 and 4 again in the following location: HKEY_CURRENT_USER > SOFTWARE > Microsoft > Windows > CurrentVersion > Themes > Personalize
Log out of your account and back in.
Do you really want to use the Dark Theme that bad? 🙂