The Num Lock Key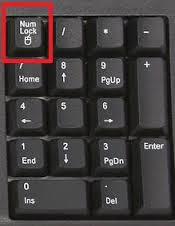 The Num Lock is seldom used, in fact, most of us never use the Num Lock key. Some of us don't even know where it is or even care where it is. But, can show you a couple little tricks using the Num Lock key that are really useful. So, in case you don't know where the Num Lock key is, it's at the top of the Numeric Keypad on your right side of keyboard, usually on the top of numeric keypad (most laptops do not have numeric keypads – laptop keyboards are a different animal). Take a look. See it? Good!
Did you know if you hold that key down for 5 seconds you can turn on Accessibility Options that will cause your computer to beep whenever you accidentally hit the Caps Lock key Scroll Lock key or the Num Lock key? Well it does, try it! Hold down the Num Lock key for five seconds (a light will come on indicating the Num Lock key is depressed – no it's not depressed because your pressing on it – or maybe it is!) When the light goes out (in about 5 seconds) a dialog window will appear and tell you that you've turned your Accessibility Options and if you want to keep them on to click OK.
Also, toggling the Num Lock key on and off switches between using the number keys to type numbers like 789456123 and using the number keys as function keys. The function each key performs in function mode (Num Lock key toggled off) are shown on the keys themselves. For instance, pressing certain keys, like "7" for instance, will cause your cursor to jump to the beginning of a line of text. And "4" will backspace one space, and "8" will cause your cursor to move up one line. Other numerical keypads have different functions; look at the keypad to find out what each key's function is when Num Lock is toggled off.
Dear laptop users:
To all those with laptops – many laptop keyboards don't have a Num lock key because they don't have numeric keypads. We have 4 laptops between EB and I. None of ours have a Num lock key. However some laptops do and if they do can access it by using the fn key. Also, if your laptop has a numeric keypad, you will have a Num lock key. We don't want all you laptop users going crazy to find the Num lock key 🙂