EM Client 5.0
Email, Calendar, Chat Client
Windows XP, Windows Vista, Windows 7, Windows 8, and the future Windows 8.1
(both 32-bit and 64-bit systems)
13.7 MB
Thanks to Des F. for bringing this program to our attention!
The one question people ask us most is: What email program do you recommend? And for good reason. Microsoft, in their infinite wisdom, took away a great email program for Windows when they did away with Outlook Express/Windows Mail in Windows 7. And Windows 8's "Email app" is almost laughable in its minimalism.
As far as desktop email programs go, we tried them all: The Bat, Thunderbird, Dream Mail, Opera Mail, Mozilla Mail, and on and on and on. I mean it's been 4 years since Microsoft foolishly decided Windows doesn't need a good email program — and said about their customers, "Let them eat cake." Or let them eat Outlook?
Outlook is a $100 exercise in overkill for the average user. Most of its features are built for businesses and Outlook is not exactly user-friendly. So it was with great interest we decided to give EM Client a try last week. And for the past week we've been testing it under some really heavy use. We've not shut it down in a week and it's still humming away, doing everything we want an email client to do — except it doesn't support stationery.
For those of you who, for some reason, don't want to use our Windows Mail Setup-service to get Windows Mail back and working on your Windows 7 or Windows 8 computers, EM Client is a great alternative.
There can't possibly be an email program that is easier to install, setup, and/or use. Accounts are imported quickly and easily. Manual setup is a breeze with excellent wizards. Importing and organize contacts is a breeze. And the list of programs from which EM Client can import accounts and email messages is impressive, including:
Outlook Express
Windows Mail
Thunderbird
Outlook
Windows Live Mail
It imports and opens .eml files, contacts, calendars and more. Plus it has a chat client you can use to chat with your friends on ICQ, Windows Live Messenger, Yahoo, Facebook Chat,, and more. It also has Skype integration for all you Skypers. You can import contacts from almost any source, including Facebook.
EM Client's feature list is impressive. We've only touched on the major features. If you want to see them all be sure to visit http://emclient.com/features/ to see more.
What's the catch you ask? Yes there's a catch. EM Client is free, but is limited to two email accounts after the 30-day free trial. And the free version is restricted to home/personal use. If you need to set up more than 2 email accounts or want to use it for business, it's $49.95 after the trial. Consider Outlook is twice as much and EM Client is twice the email program, the price is reasonable.
EM Client looks and feels a lot like Outlook Express/Outlook. The interface is intuitive and most of you won't have any problem using it.
It supports POP3 and IMAP. You can set easily up Gmail, Hotmail/Outlook.com, Yahoo Mail in EM Client. You can use it with any POP3 or IMAP service including your ISP's. Setting up an email program and importing your accounts, passwords, contacts, calendars, etc. does not get any easier than EM Client. It's the most user-friendly email program we've ever seen.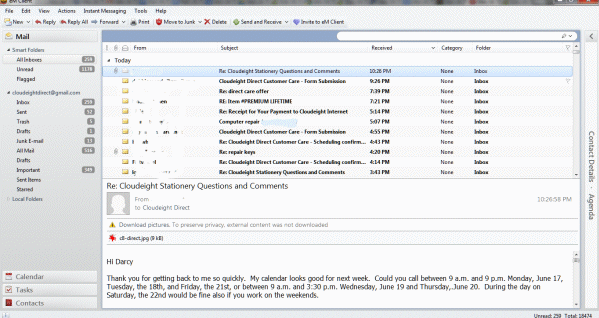 EM Client's cozy and familiar mail and folder view.

EM Client's Calendar synchronized with our Gmail Calendar.
We've been using EM Client for a week — both its calendar and mail features, and it has worked flawlessly. If you don't want Windows Mail set up on your Windows 7 or Windows 7 computer, and you're looking for a really great, free email program, and can live with its two-email-accounts restriction, and you don't give a hoot about using email stationery, there isn't a better email program than EM Client.
Now, you really do have a choice and you don't have to settle for the clunkiness of Thunderbird, the unreliability of Windows Live Mail, or some other email program you don't really like.