Click.to
Windows XP, Windows Vista (32/64bit), Windows 7,(32/64bit) Windows 8 (32/64bit), Mac
A workflow wizard and clipboard enhancer – like nothing you've ever seen before
Freeware – 3.9MB download
Before you begin reading about our freeware pick today, please note this: Gmail (and maybe other Webmail services), displays the name of this program – Click to – as a link. So we've had to modify this article so they don't. The name of the program is Click to — but there's a period between the two words – and there's a domain now that is dot to — like dot com, dot net, dot org, and so on. If we left the period in, then Google Gmail and possibly other Webmail services would show it as a link. And if you clicked it – it would lead to a domain-squatting site – a page with nothing but ads and a search engine, that exists only to make money off of mistyped URLs (and people searching for the program we're featuring today- Click to). We wanted you to be aware the actual name of the program has a period between the Click and the to. So just pretend it's there. You can do it. It's a great program – and the link at the bottom of this article leads to the correct page where you can read more about it and/or download click to.
I finally did it! I finally found a program that I love but I can't describe. We're going to need pictures and a lot of help from the developer's descriptive prose to even begin to give you an idea of what this program can do — and how much time it can save you. I've never seen anything like it. Let me tell you a story. Aw, come on, don't groan. I'll keep it short. Really.
I use Evernote – which is another program I can't say enough good things about. On my Kindle Fire, I use an app called Pulse — if you have a Kindle Fire – the Pulse app comes with it. If you haven't used it, you don't know what you're missing. Try it – you'll like it. We both do a lot of research for this newsletter – always looking for new things to write about or new programs we find that we think you'd like. The biggest assistants I've found to help make this newsletter better (besides EB) are Kindle Fire, Pulse, Evernote and now Click to. I browse a lot of tech sites, blogs, download sites, and techno-babble sites looking for ideas and things I think you'd be interested in. I used to do a lot of bookmarking – but that's not practical. I'd have a half-million bookmarks – and never find anything. So, for me, having something that lets me clip snippets of text and URLs – and keep them organized – so I can refer back to them later is essential. Pulse and Evernote have been great – but now with Click to copying and pasting snippets of things I want to go back and read later (and the URLs so I can find my way back) things have gotten so much easier.
Evernote has a clipper that pastes clips to Evernote. But sometimes I would like to paste snippets and URLS in an email, or in Notepad, or in Word or in Gmail…or who knows. With Click to I'm not limited to Evernote – I can paste snippets into whatever I want – including Evernote. Oooh – stuff like this excites me. Really. I know, it's sad.
Installing Click to is easy. Look!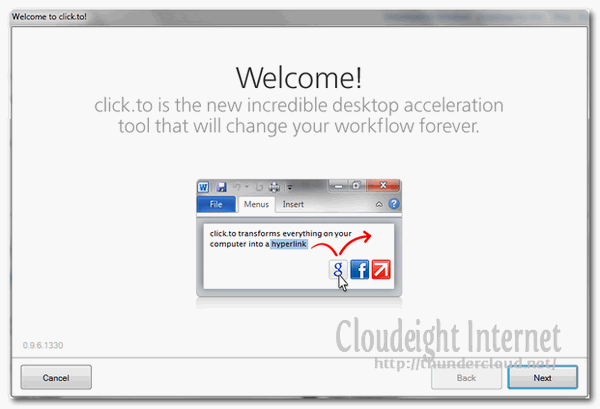 Select the applications you use most often. If you're a Facebook fan – you'll love this.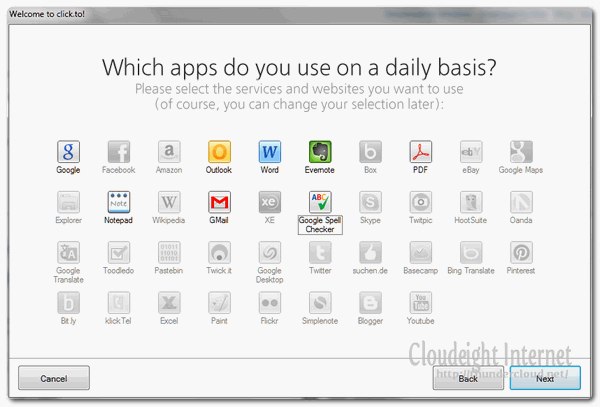 After the installation is complete, when you copy something, you'll see this bar appear at the top of your screen.

These are the applications I use most – you can choose whichever applications you use most – it's totally up to you. To paste what you've copied into the application you want – just click its icon. The URL is automatically appended. It's all done in a second. Choose the applications you want to use from Click to's "Options" dialog.
Still – after all this — you don't have any idea of how much time this application can save you.
It's time to bring the developers in and tell you more about Click to:
"Once upon a time, you were forced to awkwardly mark and copy text from one location and paste the text to the (hopefully correct) other location. Pictures to be uploaded had to be located and selected with the internet-browser's file-dialog. An unwieldy, time-consuming and frequently irritating waste of time. And if the text was in another language, it had to be marked up, copied, and passed through translation-software, before being inserted in its final destination. Now, this can all happen much faster and easier. The advantages of Click to are obvious. Text, images, videos, and other documents which are selected can be sent to other applications with a single click. And the programs can even handle the selection automatically. You might say, Click to transforms everything in your computer into a hyperlink.
Click to new horizons
An eBook. An incredibly intriguing business thriller. The author jumps wildly back and forth between different places of action. You're completely losing track of the story because you fail to remember whether Hesjövallen lies eastward or westward of Närke and Figeholm. Now – at the summit of suspense – you have to minimize the book-reader just to open the browser and look up the places with Google Maps? Just to find out where the protagonist is? That would take all the drive out of the story. What to do? A Click to Google Maps is enough! Click to will do all this for you in a single step. Mark and highlight the name in your eBook with the cursor as usual. Then press Control+C just as if you want to copy the name for pasting it to Google Maps. But now the symbol for Click to appears next to your mouse-cursor.
Hover over the name with your cursor and a drop-down menu appears. Select Google Maps and the browser opens to display the result of your selection in Google Maps. Now that you know where the protagonist is, you can simply continue reading after mere seconds of distraction.
Upload pictures to Facebook or Flickr with one click – How to?
The party is over. Lots of birthday-pictures were taken which you're simply burning to upload to Facebook or Flickr. What you get is a browser-menu that is cumbersome and time-consuming. Especially if you haven't memorized the directory where they are stored, or if you don't have your credentials available. Click to approaches this from the other side: mark and select the pictures in the Windows-Explorer then Click to Facebook, Click to Flickr or Click to any other image-processing or picture-hosting service of your choice.
Google, Wikipedia and Co. – one Click to all information

Want to know what 'Lycra' is because you found the perfect pullover on the internet? Reading an article about theoretical quantum physics and need to know what 'decoherence' is? – Or you simply want to post a quote to Twitter as-is? Click to makes that a snap. Highlight the desired object, the incomprehensible word or the quote, and Click to Google, Wikipedia or other websites.
E-mail-Attachments – Click to Outlook
How often have you re-sent e-mails because you forgot the attachment? How often did the Explorer-Menu waste your time and test your patience while you where digging for the attachment? Start the e-mail with your attachment! Select your attachment on the desktop or wherever it is stored, Click to Outlook and your e-mail begins with the attachment…"
The developers have a lot more to say but we don't have any more room. You will never know how much time you can save with Click to until you try it. I can say no more.If you don't visit the Click to Web site to learn more about and download Click to, you'll be missing out on one of our best freeware picks ever! I really mean it. Get going! Click.to is for you.
I can say no more.
Do you have a freeware program you love? Tell us about it!