Two Freeware Programs That Let You Just Say "NO to Windows 10"
EB and I both really like Windows 10; we think it is the best Windows since Windows XP. However, we've been around long enough to know everyone has an opinion some people just don't want Windows 10 no matter how good it is.
One thing we hate to see though, are the users who read negative comments about Windows 10 – or horror stories – on some off-the-wall forum and have made the decision not to upgrade to Windows 10 because of what a few people say about it. Look at it this way – if there are 50,000 people writing articles dissing Windows 10, there are 100,000,000 using Windows 10 – and a good percentage of them are happy with it. Remember, those who have problems or just like to whine – or get attention – are more likely to post negative comments about Windows 10 – or Ford Pickup Trucks – or Old Spice Shower Soap – or EB's favorite shower soap, Lava, than those who are happy or satisfied. (Lava soap irritates my sensitive skin – EB's skin is like that of a bull so it helps remove the dirt and grime and ticks. I'm just sayin'.)
That being said, Windows 7 remains a serviceable operating system and Microsoft will support it with updates and security fixes until January 2020. So there's no rush. Heck, there may even be folks using Windows 8.1 who actually like it. So whether you're using Windows 7 or Windows 8.1 you have a long time left to use it and still be protected by Windows updates and security patches.
So for those of you who do not want to upgrade to Windows 10 ever; for those of you who have not made up their minds about upgrading; for those of you who want to wait a while before upgrading…these two tools may be just what you're looking for.
Never10 is a free tool that gives you the option if you want to upgrade  to Windows 10. It gives you the option to disable the automatic upgrade, and also gives you the option to enable it again should you change your mind later. This is great for those of  you who:
Never want Windows 10.
Want Windows 10 but you're not ready to upgrade yet.
Haven't made up your mind whether to upgrade to Windows 10 or not.
Want to control when to start the Windows 10 upgrade.
You can do all this without a program (be removing KB updates) but it can be a bit difficult if you're not use to working with and/or uninstalling Window Updates – i.e. you're the non-geeky type.
Never10 is a bit different than the other tools to disable automatic Windows 10 upgrade because it does not install on your computer – it just makes the necessary changes to configure your version of Windows not to upgrade itself to Windows 10. It is very simple to use and is suitable for even those who have little computer experience. You can get more information and/or download Never10 from https://www.grc.com/never10.htm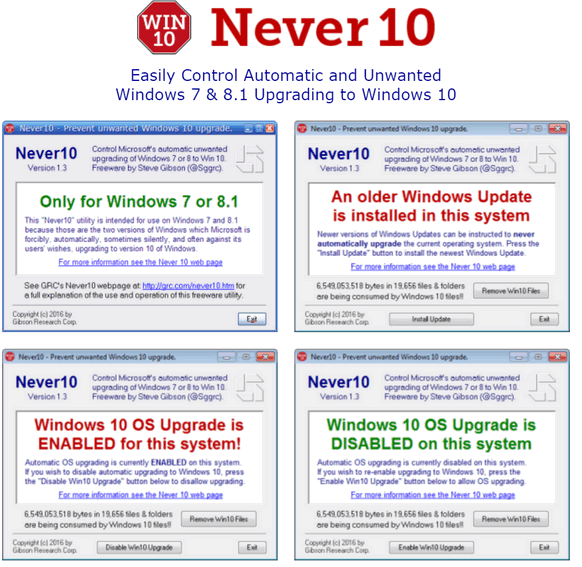 Above: Never10. It works on Windows 7 and Widows 8.1. It's 100% safe freeware.
GWX Control Panel is another free tool that can disable and remove and disable the the automatic Windows 10 upgrade on your  computer. GWX Control Panel will prevent you from accidentally downloading the Windows 10 installation files in the background. GWX Control Panel also lets you get rid of the "Get Windows 10" icon that constantly appears in the System Notification area (the area of your taskbar just to the left of the system clock). Once you install it, GWX Control Panel will scan your computer and find and remove hidden Windows 10 installation files (if there are any).
GWX Control Panel will monitor system and make sure that any Windows 10 upgrade files never get back on your computer – unless you're ready to upgrade. GWX Control Panel tool lets re-enable the Windows 10 upgrade and Windows 10 upgrade icon and lets you receive all upgrade notifications – so you control the Windows 10 upgrade…not Microsoft.
You can read more about GWX Control Panel and/or download it from this page.

Above: GWX Control Panel – works on Windows 7 and Windows 8.1. It's 100% safe freeware.
There are several other freeware programs that can control Windows 10 upgrades on your Windows 7 and 8.1 PC – but these two top our list because they are so easy to use.
Now where can I buy Lava soap online? I think EB needs a good cleaning!