Two Useful Chrome Flags
Those of you who have been using Chrome a while, probably know that Chrome has some advanced settings that border on the experimental. These are referred to as Chrome flags. We found a couple of Chrome flags recently and found them to be very useful. One is great for saving memory, the other is great for generating passwords without installing any 3rd-party apps.
Before we show you how to enable these two Chrome flags (experimental features), we will give you the customary warning.

When you access Chrome flags by typing Chrome://flags in Chrome's Omnibar (address bar) . You'll see the warning shown in the screen shot above. If you can't read that very well, here's what it says:
WARNING These experimental features may change, break, or disappear at any time. We make absolutely no guarantees about what may happen if you turn one of these experiments on, and your browser may even spontaneously combust. Jokes aside, your browser may delete all your data, or your security and privacy could be compromised in unexpected ways. Any experiments you enable will be enabled for all users of this browser. Please proceed with caution. Interested in cool new Chrome features? Try our beta channel at chrome.com/beta.
So, you've been warned! We've tested the two flags we are featuring in this post —  and we had no problems. However, this does not mean you won't. So, proceed at your own risk.
Automatic tab discarding
Do you often have 15 – 20 tabs open in Chrome at any given time? Does your Task Manager look like this?
Every open tab in Chrome uses system resources. When you have a whole bunch of tabs open in Chrome, it can really slow down your PC – especially if you have 4 GB or less of RAM.
That's where Automatic Tab Discarding comes in handy. With Automatic Tab Discarding enabled, the tabs which you have open remain visible, but they will be sleeping and not using up your system resources. To reopen the tab, just click on it, and the page will be reloaded. If this sounds like something you could use, here's what you need to do:
Open Chrome. Type Chrome://flags in the omnibar (address bar) and press enter.
Press Ctrl + F to open the page search and type in discard and press enter. You'll see "Automatic tab discarding" appear with part of the word "discard" highlighted. If you're masochist, you don't have to use the page search, feel free to browse though tons of flags until you find it 🙂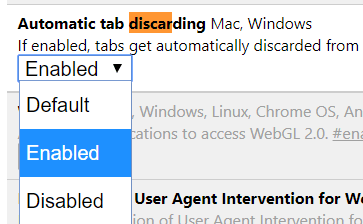 Click the down arrow and select "Enabled". You'll see "Relaunch Chrome" button appear. If this is the only change you're going to make, click the "Relaunch Chrome" button. This will enable Automatic tab discarding. Tabs you're not viewing will be put to sleep and will not be using system resources. If you decide you don't like this setting, you can go back into Chrome://flags and disable it.
Automatic password generation
If you want Chrome to automatically generate strong passwords for you when a sign-up page is detected, all you have to do is enable the Password generation flag. When you enable this flag, Chrome will generate a strong password for you, without any 3rd-party software or web sites. To enable Chrome's password generation features, type chrome://flags/#enable-password-generation in Chrome's omnibar (address bar) and press Enter. Or, if you choose, you can type Chrome://flags and press enter. In "flags" press Ctrl + F and search for "Password".  Enable Password generation by clicking the down arrow and select "Enabled" from the drop-down menu.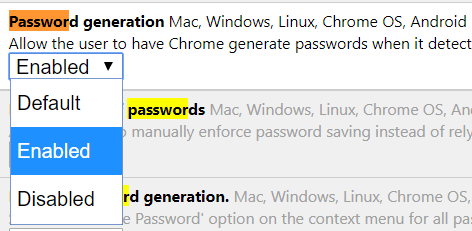 Again, once you've selected "Enabled", the "Relaunch Chrome" button will appear. You'll need to relaunch Chrome in order for the Password generation feature to work.