Yes, we know since Windows XP, you don't need a 3rd-party unzip program to unpack zip files. But what if you download a RAR file or Gzip file or some other kind of compressed (zipped) file? You're kind of stuck, because Windows won't recognize them. So you'll have to searching for a program to open these other types of compressed files because Windows decompression (unzipper) is limited to a few file types, like zip and cab.
So doesn't it make sense to install a free program that will unzip any kind of zipped file you might download and associate it with all compressed formats? Of course. It's good advice. And that's why we're recommending 7-zip – a free and unique decompression utility that unzips any kind of zip file easy and automatically. All you have to do is install 7-zip and associate it with all types of compressed files (zipped files) and let 7-zip handle unzipping them. To do this, download 7-Zip from www.7-zip.org and install it. Then open it, click "Tools" and under the "System" tab you'll see all 35 types of compressed files that 7-zip will open. Press the "Select all" button – then click "Apply". 7-zip is now associated with every kind of zipped file you're ever likely to encounter. So the next time you download a file with an RAR extension – you won't get the "Select the program you'd like to open this file with…." dialog. 7-zip will open RAR and 34 other zipped file types (including zip and cab).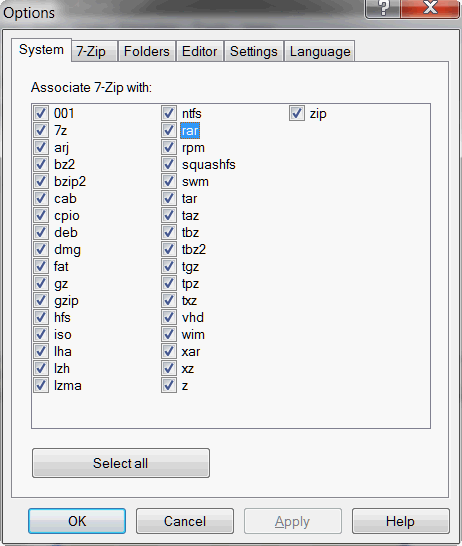 Above: 7-Zip's file association dialog
Here's more information from the 7-zip developer's site:
"7-Zip is open source software. Most of the source code is under the GNU LGPL license. The unRAR code is under a mixed license: GNU LGPL + unRAR restrictions…
You can use 7-Zip on any computer, including a computer in a commercial organization. You don't need to register or pay for 7-Zip.
The main features of 7-Zip:
High compression ratio in 7z format with LZMA and LZMA2 compression
Supported formats:
Packing / unpacking: 7z, XZ, BZIP2, GZIP, TAR, ZIP and WIM
Unpacking only: ARJ, CAB, CHM, CPIO, CramFS, DEB, DMG, FAT, HFS, ISO, LZH, LZMA, MBR, MSI, NSIS, NTFS, RAR, RPM, SquashFS, UDF, VHD, WIM, XAR and Z.
For ZIP and GZIP formats, 7-Zip provides a compression ratio that is 2-10 % better than the ratio provided by PKZip and WinZip
Strong AES-256 encryption in 7z and ZIP formats
Self-extracting capability for 7z format
Integration with Windows Shell
Powerful File Manager
Powerful command line version
Plugin for FAR Manager
Localizations for 79 languages…"
You can get more information about 7-Zip and/or download it here. 7-Zip is unrestricted freeware – the file size is about 1MB. 7-Zip works on Windows XP, Vista and Windows 7 – both 32bit and 64bit.
Unzip any kind of compressed file with 7-Zip
Windows XP, Vista, and Windows 7
32bit/64bit