(This tip was suggested by a question from Darlene N. who wrote: "This may be a dumb question, but I'm planning on installing Windows 8 when it comes out next month. Am I correct in assuming that all my programs and features will have to be reinstalled on installing the new windows? Others might be as obtuse as I am and need to know the answer too.")
Microsoft is offering a special $39.95 Windows 8 upgrade to all users of the consumer versions of Windows XP, Windows Vista and Windows 7. If you've purchased a new Windows 7 computer within the last few months you are eligible for a free upgrade or a very low cost upgrade ($14.95) to Windows 8. Whether it's free for you or whether it will cost $14.95 depends on where you purchased your computer.
Upgrading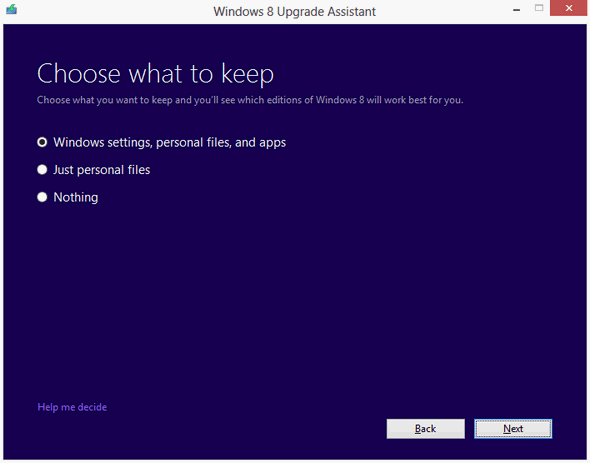 The Windows 8 Upgrade Assistant will check to make sure your PC is ready for Windows 8. It gives you a detailed compatibility report that lets you know if there's anything you need to do before or after the upgrade – it will tell you what actions you have to take before you can continue installing Widnows 8.
It will then ask you what you want to keep from your current Windows installation. You will be able to upgrade from any consumer edition of Windows 7 and keep everything including your Windows settings, personal files, and programs. If you are upgrading from Windows Vista, you will be able to keep your Windows settings and personal files but not your programs. If you are upgrading from Windows XP you will only be able to keep your personal files — you will not be able to keep your programs or settings.
If you want to do a "clean install" of Windows 8, you can choose that option too. In the case of a clean install – you will keep nothing from your old computer. If you're using Windows XP or Vista and have all your personal files backed up, a clean install of Windows 8 may give you the best option — a clean install always seems to run better. You can even choose to format your hard drive as part of the upgrade. But remember you can only do so as long as you have the boot media (i.e. Windows DVD). You can then format your hard drive from within Windows 8 but you cannot do it prior to it.
If your computer can run Windows Vista or Windows 7 – you will have no problem upgrading to Windows 8. If you're running Windows XP,  before you buy Windows 8 – make sure your computer meets the minimum requirements for Windows 8.
Here are the minimum requirements:
1 gigahertz (GHz) or faster processor
1 gigabyte (GB) RAM (32-bit) or 2 GB RAM (64-bit)
20 GB available hard disk space
1366 × 768 screen resolution
Microsoft DirectX 9 graphics device with WDDM driver
Internet access (fees may apply)
Microsoft account (LiveID) required for some features
Some features such as touch and Client Hyper-V may require advanced or Windows 8 certified hardware
The Windows To Go feature requires advanced hardware. To learn more about USB drives certified for Windows To Go, please visit www.microsoft.com/WindowsToGo .
To summarize:
If you're using Windows 7 you can keep all your programs, files, settings — everything, when you upgrade. In other words, you keep everything when you move to Windows 8.
If you're using Windows Vista you can keep your files and settings but not your programs — you'll need to reinstall all of your programs.
If you're using Windows XP — make sure your computer is powerful enough to run Windows 8 – before you do anything else. You won't be able to keep anything but your personal files (pictures/music/documents, etc.).