Have you ever had an application that is not running well and you look in Task Manager and find that there are 7 or 8 instances running? You can, if you want, right-click each one – one at a time – and choose "End process" or "End process tree" and then click off the Windows warning about making that program unstable.
There's a faster way. If you know the name of the program's exe do this:
Press the Windows Key + R key and type CMD in the run dialog. Now press Enter. In the command dialog, at the prompt, type:
TASKKILL /IM chrome.exe /F and press Enter
See?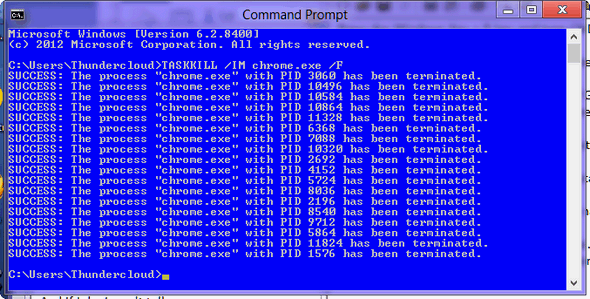 All instances of Chrome running on my computer we're killed without a whimper from Chrome. And gee! I wasn't having any problems with Chrome either…but it's dead now. It's okay – I can open Chrome up again and all I will get is a little notice that Chrome didn't shut down correctly. Really? 🙂
The above command will kill all instance of Google Chrome in less than 1 second. Substitute the name of the program whose process you want to kill where I have chrome.exe it the example above. For instance:
TASKKILL /IM iexplore.exe /F will kill all instances of Internet Explorer
TASKKILL /IM firefox.exe /F will kill all instances of Firefox
As long as you know the program's exe file name you can kill all instances of any program using this command.
One more thing. The spaces here are critical. There's a space after TASKKILL and before the /. There's a space after exe and the /F . if you don't do the spaces right — you don't get your reward.:-)