Using Control Panel to Set Your Default Programs in Windows 10
Most of you who've been using Windows 10 for any length of time, most of you are using–>System—>Default Apps… to change your default browser, email program, etc. And that's how Microsoft wants you to change them – if you really want to change them – of course, they'd prefer you used what they want you to use. Stuff like Edge, Groove Music, Windows 10 Mail App, and so on.
There is only one place you can actually set the default programs for your Windows 10 computer, and that's in Control Panel. So, if you really want to set a program as default, do what we do and use Control Panel. Why? Because many times, when you use "Settings" to set or change your default programs, the programs won't be given all of their defaults. For instance you may set an app ( program ) as default in Settings –>Default apps, and then you look in Control Panel and find it says something like "This program has 11 out of its 15 defaults", see?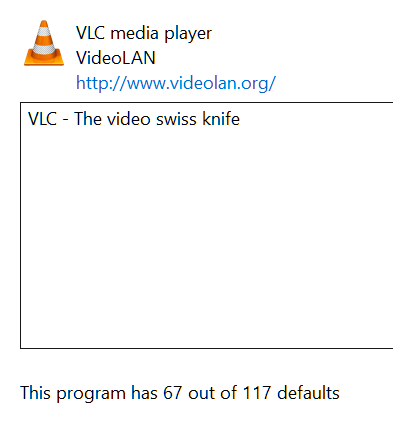 So setting VLC Media Player as default in Settings—> Default Apps,  didn't do the job, did it? Now in Control Panel, I can click "Set this program as default" and give it all its defaults.
So the next time you want to set or change a default program, right-click on your Start button, click on "Control Panel", (make sure you're in "Large icon" view), click on Default Programs–>Set Default Programs, and give it a few seconds to load all your installed programs. Then click on a program that you want to make default and click "Set this program as default"

After you do that, you should see:

"This program has all its defaults"