Virtual Desktops in Windows 10
One of the features of Windows 10 that almost everyone likes, and almost everyone can use, is called Virtual Desktops. You can switch between desktops just by clicking a taskbar icon and clicking on any one of the Virtual desktop you have created.
Why is this so good?
Well, let's say you have a document you're working on and you decide you want to open a graphics editor to work on some graphics. Well you could open a graphics editor on the same desktop – and you can split the screen with your document on one side (or top) and one on the other side (or bottom) and this is OK, because it works. But lets say you also want to check your email and pay some bills online too. Now you're talking clutter and if you're old and feeble like us we're talking forgetting all the stuff we have open.
So Windows 10 allows you to create multiple desktops and switch between them simply by clicking an icon.
(What is that EB? You say what about the folks who don't have Windows 10, but want virtual desktops? They are in luck, my friend. There's a little tiny program they can download from SysInternals (a Microsoft site) that allows them to easily create and switch between up to four desktops with just a keyboard shortcut or clicking an icon in the system tray – we will cover that in a separate post for those of you using Windows 7 or Windows 8.1.)
But we are going to stick with Windows 10's Virtual Desktops feature for now, OK?  Hark! Windows 10 users: Here's how you use virtual desktops in Windows 10:
First, look at the image below. See the circled icon? (Focus EB! Focus!) That's the virtual desktop icon and it's also the task view icon. If you want to use virtual desktops, you'll need to be familiar with it. ( You can also access Taskview and Virtual desktop by pressing Windows Key + Tab.)

I have this article open in Desktop 2 and Gmail open in Desktop 1. See?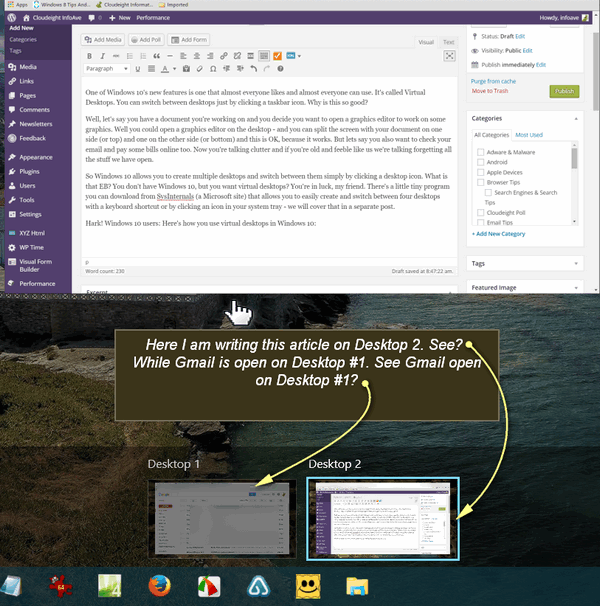 But I want to make a new graphic and I don't want it open in the same desktop with Gmail or on the desktop where I'm working on this article (InfoAve Website).  I open the graphics editor in this window, but I want to move it to a new desktop, so I click the Task view/Virtual desktops icon.
I see Desktop 1, Desktop 2, as well as the current window I'm working in – PaintShop Pro. I right click on the PaintShop Pro window (in Task view) and choose "Move to>" "New desktop". You an see below: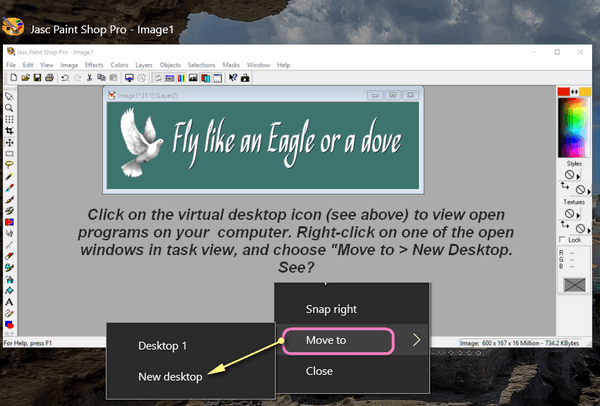 Now I have 3 desktops – Gmail is open in Desktop 1, the Web editor for InfoAve Website is open on Desktop 2, and PaintShop is open on Desktop 3 (the active desktop). See?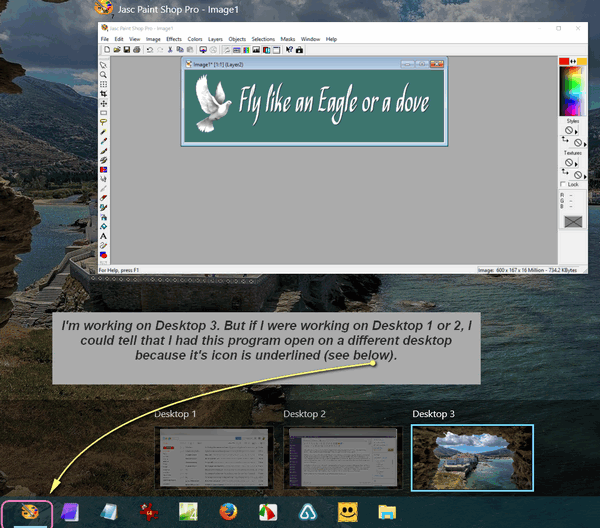 Here's what it looks like with 3 programs running on 3 separate desktops. I get this view by clicking the Virtual desktop / Task view icon. Clicking on one of the desktops brings it into focus . The other two desktops are available any time you want to switch to them. Just click the Virtual desktop / Task view icon and click on the desktop you want to work on. See?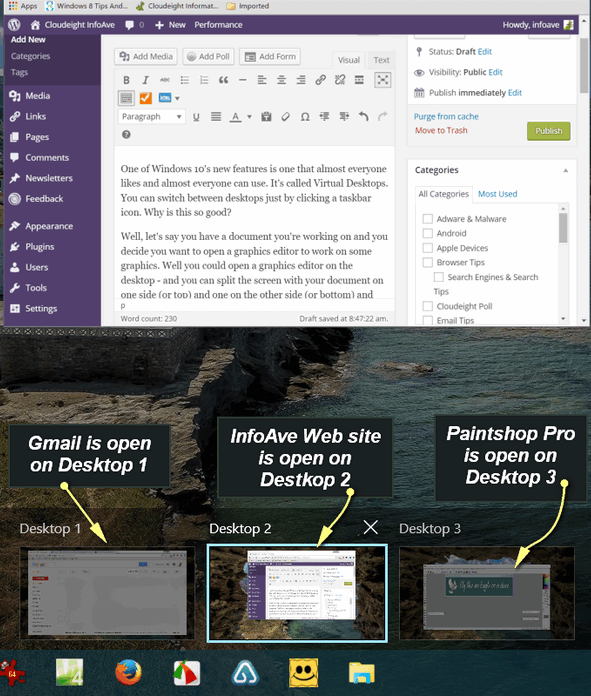 You can have as many virtual desktops as you like, but don't get too crazy! You can switch between your virtual desktops by clicking on the Virtual desktop / Task view icon and clicking on the desktop you want to work with. You can also access Taskview and Virtual desktop by pressing Windows Key + Tab.
It's easy!
---


Help keep Cloudie healthy and keep the tips and tricks coming. Your help is greatly appreciated.